Road Trip Itinerary - Denver to Rocky Mountain National Park (One Day Trip)

Little Family Adventure
3/8/2023
Ready for a fun, adventurous day trip from the Mile High City?   Rocky Mountain National Park is a nature lover's paradise, with towering peaks, sparkling alpine lakes, and abundant wildlife. The park covers over 415 square miles.
With its breathtaking landscapes, diverse wildlife, and numerous hiking trails, there's something for everyone in this beautiful region. Here are my best tips for getting to the Rocky Mountains from Denver, Colorado in a day.
Planning Your Trip from Denver to Estes Park
If you are not used to mountainous terrain or climates, there are a few factors to consider when planning your Rocky Mountain National Park trip.  The park is an immense wilderness.  Plan what you want to see and do in the park, as well as what you will wear and eat.
Rocky Mountain National Park is one of the most visited parks in the United States. Estes Park is the main gateway to the park and is a fun little adventure in its own right.
Park Fees and Logistics
It costs $25 per vehicle to enter the park. RMNP rolled out a timed-entry system recently and this system is in place from the end of May – October 2023. Although it's considered a pilot program, I don't anticipate this timed-entry reservation going away any time soon.
Parking Issues in Rocky Mountain National Park
During peak season, parking can be an issue, especially at the most popular or scenic views, such as Bear Lake Trailhead. A free shuttle takes the stress out of parking. Start your day early in the morning to avoid crowds.
Tip: Save money on national park entrances fees with an America the Beautiful Annual Park Pass. It's only $80 and is good for admission to all U.S. National Parks, Monuments, and sites that charge admission. I buy my annual pass online at REI Coop where 10% of each pass is donated to charity.
What to Wear
Dress comfortably and in layers when hiking in the majestic Rocky Mountains. Even if it is sunny and hot in Denver when you leave, pack a sweatshirt.  Some parts of the park will still have snow – even in July.  Weather can change suddenly and you do not want to be left in a hail or snowstorm unprepared.  
Pack layers for warmth including a hat, gloves and a water-resistant jacket.  Colorado boasts 300 days of sunshine. Pack your sunglasses and sunscreen too, even in the winter. Bring sturdy hiking boots and poles (read our review of Purtrek poles). This rocky terrain requires stable footwear.
Related: What to Pack on a Day Hike
Where to Eat
There are no restaurants in Rocky Mountain National Park itself.  Eat and stock up on snacks in Denver or Estes Park before you explore the wilderness.  Estes Park has a variety of restaurants to suit every taste and budget.
That fresh mountain air is good for the body and the soul – don't be surprised if you're a bit hungrier than normal.  Pack healthy road trip snacks such as fruit, vegetables, granola bars, and sandwiches to keep your energy levels up.  Make sure you have an ample supply of water, too. 
Pin For Later
Want to save this article for later Pin the image below to Pinterest.
Getting to the Rocky Mountains National Park from Denver
Estes Park is the gateway to the Rocky Mountains outside of Denver. There are two main roads that will get you to the park. If you like scenic routes, take the Peak to Peak scenic byway, Hwy 72. (Fun fact: This is the second-highest paved road in Colorado.) It is a gorgeous scenic drive and adds an hour or so of additional driving time.  In the fall, this road provides postcard-worthy views of Colorado's famous golden aspens. 
The more direct route will be I-25N and connecting to Hwy 36.  Make sure to gas your car in Denver or Boulder.  It takes about 1.5 hours on this direct route to reach Estes Park from Denver.  Build a little extra time into your schedule for any stops, traffic obstacles, or inclement weather.  
Tip:  You can visit Rocky Mountain National Park Year-round, but some areas and roads are closed in the winter due to snow and ice. 
Are there Tours to Estes Park from Denver?
If you don't have a car or are uncertain about driving in the mountains, there are several tour companies based in Denver that plan day trips to Estes Park.  Most of the tours have several pickup locations throughout Denver, including Union Station.  These tours avoid the timed entry reservations and are an efficient way to see the Rocky Mountains when you are traveling alone, have limited time, or don't have your own car.
Related: How to Get Free Admission to National Parks – National Free Days
What to See and Do in Estes Park
The best time to see wildlife is early in the morning or late in the evening when animals are most active. Keep in mind that if you do see wildlife, it is important to keep a safe distance and do not approach them, as they can be dangerous if they feel threatened.
Wildlife 
Bring your binoculars because there is plenty of wildlife for you to see.  Over 60 species of mammals and 280 different kinds of birds call this park along the continental divide home. During the cooler months, the elk herds visit the lower elevations and you might even see them wandering through town. Look up into the craggy slopes to spot bighorn sheep grazing on rocky ledges. 
Black bears are always a possibility. Keep your distance, especially in the spring when moms will have babies with them. Never feed or approach wild animals.
The Rocky Mountains are also home to some of nature's most impressive birds. Try to spot golden eagles soaring on thermals. The small mountain songbirds are colorful and a delight to listen to. Before moving to Colorado, I had no idea it was home to several species of hummingbirds, and you can see many of them in Estes Park. 
Tip: Before we go birding, I like to find a few sounds for my kids to learn.  When we are out hiking, they often hear the birds before they see them. 
Alpine wildflowers attract more than 140 species of butterflies to the park. Butterflies are considered an early indicator of climate change and Rocky Mountain National Park is a leading research station. 
The park is home to four distinct ecosystems.  You are nearly guaranteed to find interesting flora and fauna. In the subalpine range (between 9,000 and 11,000 feet), look for marmots.  These are brown ground squirrels that whistle when they're in danger. They're fun to watch if you get the chance.   
Family Friendly Hikes
You literally cannot visit Rocky Mountain National Park without doing some level of hiking.  Make sure you have sturdy shoes, water, and a pole.  There are hundreds of miles of hiking trails in the park ranging from beginner to difficult levels. Long's Peak is the only 14'er in the park and a top tourist destination. 
Higher elevations can significantly impact you if you aren't used to this elevation – even if you are in shape or hike regularly elsewhere.  Acute mountain sickness is real and rangers treat thousands of visitors every year.  Symptoms include headaches, difficulty breathing, rapid pulse, and nausea. Drink water regularly and don't ascend too quickly. 
Alpine Visitor Center
Located on Trail Ridge Road, you can get to the Alpine Visitor Center in Rocky Mountain National Park by taking US Route 34 northwest of Estes Park. Continue for about 8 miles until you reach the center. From here, take a short hike up to the 12,000 ft peak nearby. The trailhead is just behind the visitor center and is well-marked. The hike is relatively steep but can be completed with ease within an hour or two.
Note on The Trail Ridge Road – Before traveling along Trail Ridge Road between Estes Park and Grand Lake, check the park website for its current status. At the time, I'm writing this article, Trail Ridge Road is closed for the season at Many Parks Curve on the east side of RMNP and at the Colorado River Trailhead on the west side.
Bear Lake Trailhead
The Bear Lake Trailhead gives access to some of the most popular and picturesque hikes in the park.  It is extremely popular.  The trailhead is 9 miles off Hwy 36 through the Beaver Meadows Entrance to the Rocky Mountain National Park.  Arrive early in the morning to avoid crowds and take advantage of the free shuttle to avoid parking problems.
At the trailhead, there are two main trails.  Bear Lake is off to the right and Nymph Lake, Dream Lake, and Emerald Lake are on the left trail. Bear Lake Trail is a little under a mile round-trip and circles Bear Lake.  From this trail, you'll be treated to amazing views of Flattop Mountain and Hallett Peak.
Dream Lake
From the Bear Lake trailhead, you can access the longer and steeper Dream Lake trail as well.  It is just over 2 miles round trip.  Bear Lake veers off to the right while the Dream Lake trail splits off to the left. For either of these trails, start early in the morning to avoid the crowds. Some portions of this trail are steep, and there is a 450-foot elevation gain.
About a half mile from the trailhead, the southern tip of Nymph Lake will come into view.  Continue walking around Nymph Lake and follow the trail to Dream Lake.  In the summer, abundant wildflowers bloom between the two lakes. 
About a mile from the trailhead, you will come to a junction for a trail to Lake Haiyaha, stay to the right and you will quickly see Dream Lake. 
Depending on the time of year, Long's Peak, Hallet Peak, and Flattop Mountain are visible from this trail. 
Sprague Lake
If the Bear Lake trail is too busy, Sprague Lake is a good option. This half-mile loop trail is wheelchair and stroller accessible. It's great for little kids.
Alberta Falls
This trail is also perfect for families with young kids. It's about a mile long and takes you to a beautiful waterfall. Stay aware of your surroundings and look for wildflowers, deer, elk, and bears.
Coyote Valley
Coyote Valley is another easy trail that is wheelchair accessible.  It offers lots of wildlife viewing opportunities as it follows the Colorado River – you might even see a moose! This trail is on the western side of the park. In the summer, thousands of wildflowers bloom all over the Kawuneeche Valley. It is just over a mile roundtrip. If time allows, definitely try to see it.
Horseback Riding
Experience the high country the old-fashioned way — atop a horse. This is a wonderful way for older children to see more alpine country than possible on foot. There are two stables located within the park: Glacier Creek Stables and Moraine Park Stables. Approximately 260 miles of trails are open to horse use, which makes up more than 70 percent of the total trail network in the park.
Guided Hiking Tours
If going alone on the hiking trails is out of your element, try a personalized guided hiking tour. You'll hear trail interpretations and local lore from the guides. This would be an efficient and thorough use of your time during your day trip from Denver to the Rocky Mountains.
Moraine Park Discovery Center
The Moraine Park Discovery Center offers a variety of interactive educational exhibits, programs, and activities that help visitors learn about the natural and cultural history of the park. The exhibits focus on the park's geology, wildlife, and ecology, as well as information on the park's history and human impact. The center is open seasonally, generally from late May to late September.
Stanley Hotel
Known as the inspiration for Stephen King's 1977 horror novel "The Shining," the Stanley Hotel is a popular destination for fans. The hotel also offers a unique bit of Colorado history through its beautifully preserved structure. You can stay at the hotel or just participate in ghost tours, live music, or check out the museum.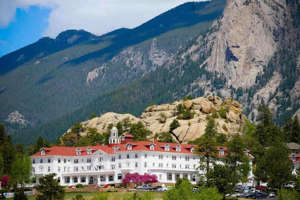 Suggested One-Day Itinerary from Denver to the Rocky Mountains
6:00 AM – Depart Denver and head towards the mountains.
8:00 AM – Arrive at Estes Park. Kids love this Pika Scavenger Hunt in the downtown area, too. Walk through the city to stretch your legs a bit before heading out towards the trails.
Morning-Early Afternoon – Hike on Bear Lake Trail as well as Dream Lake, Nymph Lake, and Emerald Lake. Enjoy snacks and a picnic lunch.
Mid-Afternoon – Take a quick jaunt around Sprague Lake and then head to the Moraine Discovery Center.
5:00 PM – Head back to Estes Park for a hearty meal before returning to Denver.
Rocky Mountain National Park is a nature lover's paradise, offering visitors a wide range of activities to enjoy, including hiking, camping, and wildlife viewing. The park is easy to get to, with plenty of family-friendly hikes, scenic views, and an abundance of wildlife. Rocky Mountain National Park is the perfect destination for your next adventure. Tell us in the Facebook group about your favorite view or activity in Rocky Mountain National Park.
FOLLOW US ON SOCIAL MEDIA
Don't forget to invite your friends to our Facebook groups! We would also love to see your vacation pictures!
For more family travel inspiration, check out our latest posts here:
Ready to Start Planning Your Trip? Use These Helpful Links to Book Your Trip!
The post Road Trip Itinerary – Denver to Rocky Mountain National Park (One Day Trip) appeared first on Little Family Adventure.