The Best Iowa Road Trip: Cruising Down the Great River Road

Zack Litchfield
11/8/2022
Iowa is not necessarily a state that immediately pops to mind when you think of road trips. Yet, the best Iowa road trip is full of breathtaking overlooks, awesome history, and more than it's fair share of surprises. I was fortunate enough to spend a few days along the Great River Road as it wound along Iowa's eastern border. Traveling along this historic and scenic route is definitely the best Iowa road trip, but don't just take my word for it. Check out the entire post and let me know in the comments below what you think!
This post contains affiliate links. Clicking on them costs you nothing, but it does help support my blog. I promise to never recommend a product or service that I haven't tried or done plenty of research on. Thanks for reading and supporting!
Guide to Cities on the Best Road Trip in Iowa
The best Iowa road trip winds its way down the eastern side of the state. It gives you plenty of opportunities to explore all the cities that draw their life from the Mississippi River. With that in mind, I think its best to take a look at some of the major cities along the way you'll visit. A few of the cities below are definitely worth spending a whole day exploring if you've got the time. It's possible to make this Iowa road trip in as few as two days. Alternatively, you can stretch it over five or six days if you've got the time to spare.
A couple of other notes before we dive into the following list of cities. This isn't all the possible towns you can see. If you start up at the Iowa/Minnesota state line, you'll pass through towns like Lansing and Marquette. Marquette is the closest town to Effigy Mounds if you're planning to stop there (see the parks section later). Additionally, towns like Guttenberg, Bellevue, and Fort Madison are also right on the way. Check them out as well because you never know what gems might stand out to you that didn't catch my eye when I was planning my own trip.
Dubuque
The city of Dubuque is the first major city you'll come to along the way south. It is a fantastic city that we really enjoyed our time in during our Great River Road trip. It is a great place to spend your first night along the trip. When we came through town, we were camping in our Subaru Forester. Miller Riverview Park was one of the coolest stays of our entire trip. Hard to beat waking up to the sunrise right over the Mississippi River.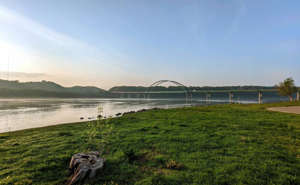 Dubuque also features some great views above the Mississippi River as well. Eagle Point Park stands high above the river. It's a great place to stretch your legs, while also giving you expansive views over the Mississippi. In fact, from one vantage point you can see three states (Iowa, Wisconsin, Illinois)! For a little more nature in the city, you can head over to the Dubuque Arboretum and Gardens. It features almost 60-acres of beautiful gardens to spend some quiet time exploring.
Downtown should also draw your attention when visiting the city. The National Mississippi River Museum and Aquarium is located here. Featuring exhibits dedicated to the unique natural world of the Mississippi River, it's a fun place to take the kids. When you're ready to settle in for the night (and aren't camping right on the river), get a stay at Hotel Julien Dubuque. You'll get a great night sleep close to downtown, plus you can wake up and have breakfast right on site at Caroline's Restaurant!
Clinton
The little town of Clinton has a unique history that was definitely unexpected to learn when we visited on our road trip in Iowa. We made a stop at the Sawmill Museum in downtown Clinton. The museum highlights the history of Clinton and it's importance in the lumber industry. Who knew Iowa had such a big part in the history of lumber! The Sawmill Museum is definitely geared towards children, however, my wife and I had a really great time. It's hard to not like a cool little museum that tells a unique story.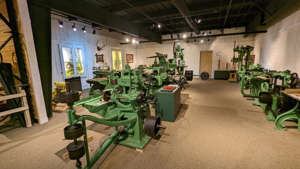 Clinton hugs a bend in the Mississippi River and had a couple of great parks of its own. The Riverview Park allows you to walk right down on the river, enjoying the expansive open views. Alternatively, you can stop just north of the city at Eagle Point Park (because apparently, there are multiple parks in Iowa with this name). Clinton's Eagle Point Park features a nifty little castle and is a great place for flying a drone up above the river and surrounding country.
Davenport (and the Quad Cities)
The Quad Cities area is the most populated on this entire Iowa road trip. It is comprised of the cities of Davenport and Bettendorf, Iowa, as well as Rock Island and Moline, Illinois. We didn't have an opportunity to explore beyond Davenport proper, but I highly recommend spending an entire day/night in the area.
The first place I recommend stopping in Davenport is the little village of East Davenport. It's a cute little district that features a number of local shops and restaurants. We really enjoyed our lunch at Brew on 11th Street. It was directly across the street from Lindsay Park which gave us a nice place to walk off that lunch we had. If you're a fan of art, then check out the Figge Art Museum in downtown Davenport, which has one of the better collections of art in Iowa.
However, Davenport isn't the only one of the Quad Cities worth visiting. As I said earlier, take the opportunity to stay the night in town to visit some other areas. Those interested in military history should take a chance to visit the Rock Island Arsenal Museum once it becomes open to the public again. In Rock Island itself, there is a fantastic river front park next to the walkable downtown area. If you're staying the night in the Quad Cities, check out the schedule at Circa '21 Dinner Playhouse and see if there is a show! After the show, head back over to Downtown Davenport for a comfortable night at the Hotel Blackhawk.
Muscatine
Not too much further down the river on your Iowa road trip, you'll come across the town of Muscatine. If you thought the history of Clinton was interesting, wait till you see Muscatine's main attraction. It's the pearl button capitol of the world. Muscatine is home to the National Pearl Button Museum. You may be wondering why all the excitement for pearl buttons. For me it comes mostly from the amazing care of the people who run the museum, as well as the cool history behind it. Just like Clinton, Muscatine found itself a veritable boom town centered on a single industry. Even if the only stop you make here is the museum, it's 100% worth your time.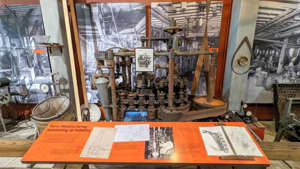 The city itself also features a big stretch of riverfront park to enjoy the day lounging on. There is a stretch of local eateries, many of which do take out that you can enjoy next to the water for a picnic. If bigger towns like Davenport aren't your cup of tea for spending the night, then check out The Merrill Hotel. It's right across from the river in the heart of downtown. Hard to beat enjoying a quiet day and night in such a nice little town.
Burlington
Burlington is the second to last major city that you'll encounter on the drive down the Great River Road in Iowa. Like many of the other smaller towns on this list, there isn't necessarily a must see attraction in Burlington. However, it's certainly a nice spot to do a bit of shopping in downtown or to stop and grab some lunch in town. To fill up your tummy pretty much any time of day, check out Wake n Bake Breakfast Company.
If you need a chance to stretch your legs, or just want some more views overlooking the Mississippi River, then head down to Crapo Park. The bluff in the park overlooks the river and is another nice picnic park. It also features a replica log cabin that once stood on the site. This historical cabin gives a look at what pioneer life was like in the area, so it's a neat spot to stop in and take a look.
Keokuk
The final city along the route is Keokuk. Your journey on the Iowa road trip down the length of the Great River Road in Iowa is coming to an end at this point. However, its a neat little town to finish off your trip. If you happen to be coming through town in September, the town has a Geode Fest each year! This is because the local area is well known for the large number of geodes, making this a pretty great spot to go searching for them!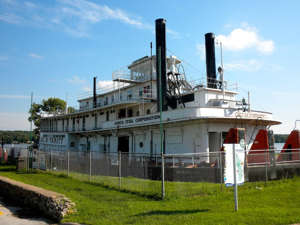 Along the waterfront, you'll find Victory Park. While not the largest city park on this trip, it does have one pretty cool feature. The George M. Verity Riverboat Museum is docked on the river near the park. It's a great spot to learn about the mighty riverboats which once prowled much of the Mississippi River. The Museum is open daily during the summer months, with its schedule changing to weekends only in the spring and fall.
Parks to Visit Along the Great River Road
There aren't just cool cities to visit as you're taking the best road trip in Iowa. You've also got a bunch of state and national parks which deserve a visit as well! Most of these are north of Dubuque, so make sure you take that into account when making your trip. If some of these parks are going to be the centerpiece of your trip, consider staying near the town of Marquette since it's central to a lot of them!
The highest profile park in along your road trip will be Effigy Mounds National Monument. The first piece of info you need about this park is get ready for hiking. In order to protect the mounds, the visitor center is built away from all the major mounds. This means you'll need to hike at least 3/4 of a mile to see any of them, with a decent portion of that hike being of moderate difficulty. However, if you are prepared to make the trek, you'll be rewarded with one of the most well preserved sets of mounds in America. Since not many people will make the trip, expect to have some seclusion up there as you step back in history. If you time your trip for fall, you can even combine it with an awesome display of color as well.
Just to the north of Effigy Mounds is Yellow River State Forest. This state forest is a fantastic place to do some hiking, camping, or even snowmobiling in winter! It really is an outdoors enthusiasts playground. The forest is open and beautiful year round, so I definitely recommend including it on your trip. Another excellent park that is right off the Great River Road in Iowa is Pikes Peak State Park. Pikes Peak features a stunning overlook of the Mississippi and Wisconsin Rivers joining. It was easily one of my favorite stops on my entire trip down the Great River Road in Iowa. The park also features Bridal Veil Falls, in addition to more hiking trails through the park. Even if you don't come here to hike, make sure you check out the overlook or enjoy a lunch in the open part of the park.

Awesome Detours to Take on Your Iowa Road Trip
Any good road trip features a few detours. This road trip through Iowa is certainly no different. When we made our trip through the state, the very first thing I looked up was the first detour we took. The Field of Dreams was an absolute must see for me. Luckily, it is easy to pop off the Great River Road and make a visit to Dyersville. You won't be missing much along the Great River Road through here, not to mention its easy to get back to Dubuque from here. Baseball fan or not, it's hard to not feel nostalgic standing on the site of a piece of cinematic history. You've really gotta make it part of your trip.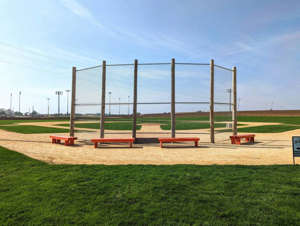 The major city of Cedar Rapids is another possible detour on to take on your trip. While it does take you quite a ways off course, the city is Iowa's second largest. It's a flourishing center of arts and culture in Iowa, well worth a visit in its own rights. Some of the highlights of a stop in Cedar Rapids are the National Czech & Slovak Museum, the Cedar Rapids Museum of Art, Ushers Ferry Historic Village, or a show at the Paramount Theatre. If you're wanting to include Cedar Rapids in your Iowa road trip, it's you can do it after a visit to Dubuque. It's a little over an hour from the city, and then it'll only take about 90 minutes to return to the Great River Road in Iowa via Clinton or Davenport.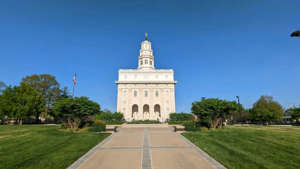 A final detour on this trip will actually take you into the state of Illinois. Since the Great River Road follows the river on both sides of the Mississippi, you can easily jump onto the portion of the Great River Road in Illinois. Cross over the river either in Burlington or Fort Madison and follow the road south to Nauvoo. This small town played an outsized role in American religious history. It's where the Church of Latter-Day Saints made an attempt to build a city fully in their image. The center of the modern town stands an impressive temple with a breathtaking view of the river from its bluff perch. You can also explore a recreation of the historical village down by the river. History buffs will absolutely love a stop here and it's really easy to return to your road trip through Iowa afterwards.
When to Take the Best Road Trip in Iowa
Like many northern and midwestern states, Iowa can experience some pretty harsh winter weather. Although it's more than possible to take a trip in winter, you'll definitely want to be planning this Iowa road trip for sometime during the Summer or Fall.
Late Spring and early summer offer the first snow-free weather. Usually by May any remaining snow has melted away. This gives way to vibrant green foliage across the state's forests. Temperatures also begin to creep upwards during this time. While Iowa can experience some hot days, highs are usually in the upper 80s or low 90s. Definitely tolerable for people like me who regularly deal with upper 90s or hotter! Rain is also a definite possibility throughout the summer months, so always be prepared for that.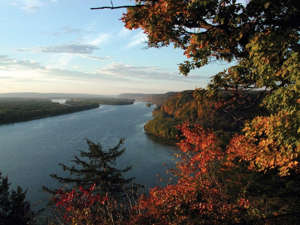 Post-Labor Day and into the cooler fall months might be the prime time to make your visit. Temps begin to recede, making time outside even more pleasant. It's a wonderful time to consider camping, instead of a hotels along the way. You'll also start to see some of those vivid fall colors as the trees begin to get ready for winter. The month of October might very well be the best month of the year. Trees are changing, weather is cool and crisp, plus it's harvest season!
Honestly, no matter when you choose to visit the Great River Road in Iowa is a fantastic trip. The views of and over the river really never get old. However, combining them with great weather or other seasonal activities is really the way to go!
Final Takeaways as You Plan Your Iowa Road Trip
Now that you know all about what's along the route of the best road trip in Iowa, it's time to start really planning. If I was to plan a perfect trip, I'd start in mid-October as the leaves begin to peak. Spend a couple days exploring the parks in the north, as well as the city of Dubuque. You've gotta visit the Field of Dreams then as well! From here, take a day to drive between Dubuque and Davenport. Another day or two jumping between the Quad Cities. Finally, spend the last day making the drive down the Great River Road in Iowa to Keokuk. With about a week in total, you'll maximize time to explore everything Eastern Iowa has to offer!
You can also join this trip down the Great River Road in Iowa with the surrounding states. It's super easy to visit Minnesota's Great River Road, taking the scenic route in Wisconsin, jumping back and forth on the Great River Road in Illinois, or even continuing south to visit Mark Twain in Missouri! It's a great adventure for the entire family!