Hayden Panettiere and Fiance Wladimir Klitschko Split After 9 Years Together: Report

US Weekly
8/3/2018
Hayden Panettiere is reportedly a single woman again.
The Nashville alum and her fiancé, Wladimir Klitschko, have split after nine years together, according toE News.
"At this point, Hayden is single and she and Wladimir are co-parents to Kaya. Kaya is primarily with her dad and his family in Europe and Florida. They also spend time together as a family with Hayden," a source told the outlet. "Hayden and Wladimir are on great terms and friendly. They are a big part of each other's lives and will continue to be. Hayden is back in Los Angeles and figuring out what's next."
The actress' mom, Lesley Vogel, also seemingly confirmed the news to Radar Online on Friday, August 3. "I think there are a lot of changes going on in her life, but I think they're positive changes," she said. "I think that she's taking some time. She's been working for many years on [Nashville]. She needs to take a little bit of a break and make some decision on her own of what she wants to do. So I think she is in a very good place."
The former soap opera actress, 62, also told the website that Panettiere, 28, and the former professional boxer, 42, remain on good terms. The former couple even traveled to Greece with their 3-year-old daughter, Kaya, in late July.
The actress, who currently lives with Klitschko in Nashville, is in the process of moving back to her native Los Angeles, according to her mom.
The news comes hours after Panettiere was spotted having dinner and holding hands with a mystery man at Craig's in West Hollywood. She wore an orange floral dress, but opted to go barefoot as they walked back to their car after their meal.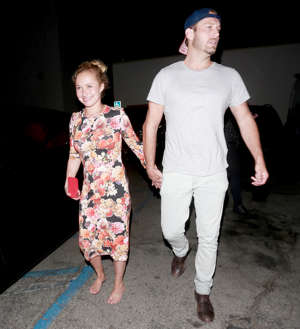 © Lies Angeles / MEGA TheMegaAgency.com Hayden Panettiere leaves the back door of Craig's restaurant with a male friend. The Heroes alum and the heavyweight champ began dating in 2009. They briefly split in 2011 before getting engaged two years later.

Panettiere shut down breakup rumors in July 2016 when she stepped out without her engagement ring.
"Missing rings don't mean the end of relationships," she tweeted at the time. "Blessed to be with my beautiful family."
The Golden Globe nominee sought treatment for postpartum depression in October 2015 and again in May 2016. "It helped me identify and let women know that it's OK to ask for help, and that it's OK to have a moment of weakness, and it doesn't make you a bad person — it doesn't make you a bad mother," she said on Good Morning America in January 2017. "It makes you a very strong, resilient woman. You got to let it make you stronger." 
Related slideshow: Celebrity Splits of 2018