Charles Van Doren, Champion of Rigged '50s Quiz Show, Dies at 93
TheWrap
4/10/2019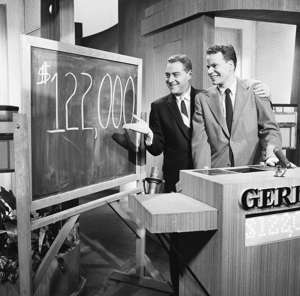 © 2012 NBCUniversal, Inc. Pictured: (l-r) Host Jack Barry, Contestant Charles Van Doren (Photo by NBC/NBCU Photo Bank via Getty Images) Charles Van Doren, a star contestant on the NBC '50s quiz and game show "Twenty-One" who was found in a congressional investigation to have received the answers in advance, has died. He was 93.
His son John told the New York Times that Van Doren died at a retirement community in Geer Village, Connecticut, where he had lived for several years.
Van Doren was a Columbia University English instructor and the son of Pulitzer Prize-winning poet and critic Mark Van Doren and novelist and writer Dorothy Van Doren.
© TheWrap Charles Van Doren on 'Twenty-One' quiz show In the 1950s, he was caught up in a quiz show scandal in which he testified before Congress that he had been given the answers in advance to the game show "Twenty-One" and that the contest was rigged. Van Doren's story was the subject of Robert Redford's film "Quiz Show," in which Van Doren was portrayed by Ralph Fiennes.
Van Doren came to fame during a craze in TV game shows in the mid to late 1950s. As a handsome, well-spoken and well-educated individual with natural screen presence, he was approached by the producers of "Twenty-One" to defeat a long-running champion of the show, Herb Stempel, as the show's ratings began to slump. 
For 14 weeks, Van Doren appeared on the show and won $129,000, or over $1 million in today's dollars, and became a celebrity. He appeared on the cover of Time Magazine and after his loss on "Twenty-One" signed a contract to appear on NBC shows for three years.
On the show, he would appear in a supposedly soundproof booth and would answer incredibly difficult trivia questions on everything from countries that border the Black Sea to Henry VIII's wives. But the show was a hoax, and after skepticism grew, Van Doren testified before Congress on Nov. 2, 1959 that he had been given the answers in advance and was coached on how to build drama or even learn to mop up sweat.
The ordeal left Van Doren disgraced and resulted in him losing his job at Columbia. He took on a pseudonym as a writer and editor for Encyclopedia Brittanica and wrote several other books. In a tell-all New Yorker article in 2008, he revealed that when he was approached to compete on the game show "Tic Tac Dough," he did not even own a television set.
Van Doren is survived by his wife, two children and three grandchildren.
Related slideshow: Stars we've lost in 2019 (via Photo Services)