Donald Trump Jr. reflects on explosive 'View' chat: 'I don't think they like me much anymore'

USA TODAY
5 days ago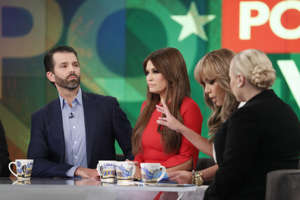 After a heated appearance on "The View" Thursday, Donald Trump Jr. talked about the experience later that day on "Hannity."
During his appearance on the Fox News show, Trump Jr. said of "The View" co-hosts: "They were obviously triggered. I don't think they like me much anymore."
While on "The View," the president's son faced the co-hosts around the table and discussed controversial topics such as his tweet about the federal whistleblower.

The discussion reached a fever pitch when co-host Joy Behar listed some of President Donald Trump's headline-making behavior. Trump Jr. responded by bringing up Behar's own controversy. 

"We've all done things that we regret, I mean, if we're talking about bringing a discourse down, Joy, you've worn blackface," he responded.
"No, I have not," Behar retorted.
On "Hannity," longtime Trump supporter Sean Hannity asked Trump Jr. why he "even bothered" with doing the daytime talk show.

"You know, every once in a while you got to try. You gotta try to speak to everyone. Hopefully they listen," Trump Jr. said. "In that case, they didn't."
Trump Jr. also called out the co-hosts for not asking him questions about his book "Triggered," which he was there to promote alongside girlfriend and Trump adviser Kimberly Guilfoyle.
"You would think if you were invited on a show, and they build it up, and they're giving you three segments – you'd think, if you there to promote a book, they'd ask you one question about the actual book," he added.
Related video: Donald Trump Jr. appeared on 'The View' to promote new book 'Triggered', and it got heated: