Kelsey Grammer Shares Why David Hyde Pierce Isn't Returning To Frasier

ScreenRant
11/24/2022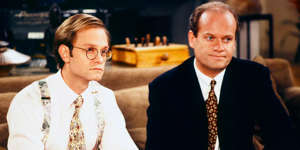 Kelsey Grammer explains why David Hyde Pierce isn't returning in the Frasier reboot. After years of speculation and the Frasier star spearheading a revival series, the reboot was finally confirmed at Paramount+ last month, with Grammer returning. The announcement included the disappointing news that no other original Frasier cast members would return in the reboot as series regulars. That includes Pierce, instrumental to Frasier as the titular character's younger brother and fellow psychiatrist, the delightfully snobbish Niles Crane.
A month after the Frasier reboot was confirmed at Paramount+, Grammer explained why his on-screen brother Pierce wouldn't return as Niles. During a recent interview with People, the Frasier Crane actor said that Pierce wasn't "interested in repeating the performance of Niles." Since Frasier ended, Pierce has led a successful theater career and currently stars in the HBO Max series Julia. Read what Grammer shared below:
David basically decided he wasn't really interested in repeating the performance of Niles... In a very funny way, it just took us to a new place, which was what we originally wanted to do anyway, which was a Fraser third act. It's an entirely new life for him.
Related: How A Missing Cheers Character Almost Made Frasier Very Different
How The Frasier Reboot Can Succeed Without Niles
A spinoff of Cheers, Frasier ran for 11 successful seasons before going off the air in 2004. To this day, Frasier still stands as one of the few spinoff shows able to rival its parent series. Though Frasier was centered around Grammer's titular radio psychiatrist, Niles was just as critical to the show's success, with Pierce winning 4 Emmy Awards on a whopping 11 nominations for his outstanding supporting performance as Niles.
Though Pierce's presence as Niles will be sorely missed, the Frasier revival will have to go on without him. As Grammer explains, Pierce declining to return forced him and the writers to take the reboot in a new direction, which they were initially planning to do anyway. If Cheers and Fraiser were the first and second acts of the psychiatrist's life, the revival would serve as the third act, Grammer explains.
While Frasier was famously set in Seattle, the reboot series will move to a new location. The setting has not yet been announced, though it will likely be Chicago, where Frasier was moving during the series finale. No matter where it is set, the Frasier reboot will have to start from scratch in an entirely new city with none of the original supporting cast to lean on. In addition to Pierce, the absences of Peri Gilpin, Jane Leeves, and John Mahoney's Martin Crane will also be felt and a tall order for the revival to overcome. Only time will tell if the Frasier reboot can succeed without them.
More: Frasier Reboot Can Bring His Cheers Role Full Circle
Source: People