The Best Superhero Shows on Netflix Right Now (May 2022)

Collider
5/19/2022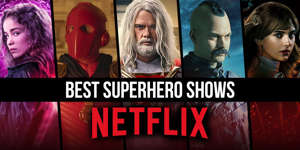 Superheroes have long been a popular focus of fiction in various forms. Their larger-than-life stories inspire us, they give us hope, and in some cases, they provide a perspective on the problems of our own lives that we often don't notice. If you're in the mood to catch a good superhero show on Netflix, though, there's a dizzying number of options to choose from. From The Umbrella Academy to Raising Dion, there's a little something for everyone on Netflix right now.
Netflix also offers so many great stories from all around the globe that offer unique perspectives on the superhero genre. So we've decided to make the choice a little easier for you by assembling the best superhero shows streaming on Netflix right now in this handy guide. Here you'll find stories of every variety, from classic capes-and-tights heroes to powerful modern origin stories to obscure hidden gems and much more. So read on, True Believers.
Editor's note: This article was updated May 2022 to include Shadow and Bone.
RELATED: The Best Animated Movies on Netflix Right Now
The Umbrella Academy (2019-present)
Creator: Steve Blackman
Cast: Elliot Page, Tom Hopper, David Castañeda, Emmy Raver-Lampman, Robert Sheehan, Aidan Gallagher, Cameron Britton, Mary J. Blige, John Magaro, Adam Godley, Colm Feore, Justin H. Min, Ritu Arya, Yusuf Gatewood, Marin Ireland, and Kate Walsh.
Seven children born under special circumstances are brought together by an eccentric billionaire who trains them to be heroes and calls them the Umbrella Academy. Thirty years later, the now-estranged members of the Academy are reunited by a funeral and the apocalypse. Neat, right?
The Umbrella Academy is the story of this dysfunctional family of heroes brought together by tragedy and weirdness. The show is based on the hit Dark Horse Comics series of the same name by Gerard Way (yes, the My Chemical Romance frontman) and Gabriel Bá. This star-studded superhero series is one of Netflix's most popular entries in the genre. Two seasons of the show are already available on Netflix and they're both wildly entertaining, with a third on the way. — Remus Noronha
Shadow and Bone (2021-present)
Created by: Eric Heisserer.
Cast: Jessie Mei Li, Archie Renaux, Freddy Carter, Amita Suman, Kit Young, Ben Barnes, Zoë Wanamaker, Lewis Tan, Patrick Gibson, Anna Leong Brophy, Jack Wolfe, Daisy Head, Danielle Galligan and Calahan Skogman.
Based on the Grishaverse book series, Shadow and Bone adapts the book's story with the same name while also introducing an original story with the characters of the duology that came after. The first season tells the story of Alina Starkov (Jesse Mei Li), an orphan and cartographer of the Ravka nation's First Army, as she discovers she is a Grisha, one with special gifts and one long-awaited to address a dire need in the universe. High fantasy and filled with magic, Shadow and Bone is what Netflix always wanted — their smaller version of Game of Thrones. Maybe more oriented toward a younger audience, the show's main attraction is the rich world that it is based upon and the history that fills it. With some great acting and intriguing stories, it is a great show for any fantasy fans who just want to lose themselves in a new world. - Arianne Binette
Ragnarok (2020-present)
Creator: Adam Price
Cast: David Stakston, Jonas Strand Gravli, Herman Tømmeraas, Theresa Frostad Eggesbø, Emma Bones, Henriette Steenstrup, Gísli Örn Garðarsson, and Synnøve Macody Lund
In Norse mythology, gods and giants meet in an epic final battle that ends the world. In Netflix's Ragnarok, that battle is happening all over again. This Norwegian series re-examines the old Norse stories in the present day, with climate change and industrial pollution being the true weapons with which the forces of evil seek to destroy the world.
But of course, there is a hero who will fight against them even though the whole world seems to be against him. That hero's name is Magne Seier (David Stakston) and when the show begins, he has no idea what great powers he has hidden within him. Ragnarok is both a coming-of-age drama and an environmentalist story. It's a superhero show with very real issues at its heart and some really cool action spread throughout, with two seasons currently available on Netflix. — Remus Noronha
Jupiter's Legacy (2021)
Creators: Steven S. DeKnight and Sang Kyu Kim
Cast: Josh Duhamel, Ben Daniels, Leslie Bibb, Elena Kampouris, Andrew Horton, Mike Wade, and Matt Lanter
One of the newest additions to Netflix's catalog, Jupiter's Legacy is a poignant family drama that just so happens to have superheroes in the mix. Based on the Image Comics series by Mark Millar and Frank Quitely, the show looks at the conflicts between two generations of superheroes and brings up questions of morality and social change.
Admittedly, the series has a few narrative issues and it was canceled after only one season, but it still manages to raise some interesting questions. And of course, there's plenty of cool superhero action to keep viewers entertained. — Remus Noronha
Gotham (2014-2019)
Creator: Bruno Heller
Cast: Ben McKenzie, Donal Logue, David Mazouz, Sean Pertwee, Robin Lord Taylor, Erin Richards, Camren Bicondova, Cory Michael Smith, and Jada Pinkett Smith.
It begins with a very familiar story: On a dark and stormy night, Bruce Wayne (David Mazouz) witnesses the murder of his parents. But Gotham is not the story of Batman – not at the beginning anyway. No, this show is the story of Jim Gordon (Ben McKenzie) in his early days as a Gotham City police officer.
Weaving through stories of corruption and horror, Gotham is essentially an origin story for Batman's whole world. Over the course of the show's five seasons, we're introduced to many of the Dark Knight's worst enemies and staunchest allies. With a narrative spanning years of history, all building up to create the iconic city we know, Gotham is a unique origin story that ought to be watched by every Batman fan. — Remus Noronha
I Am Not Okay With This (2020)
Creator: Jonathan Entwistle and Christy Hall
Cast: Sophia Lillis, Wyatt Oleff, Sofia Bryant, and Kathleen Rose Perkins
I Am Not Okay With This is a quirky, offbeat origin story about a teenage girl who develops superpowers. It's a fun dark comedy, and the stars of the show have been praised by critics for their performances.
Sydney Novak (Sophia Lillis) is a 17-year-old girl who's trying to navigate the usual drama of high school and come to terms with her budding sexuality. So getting telekinetic superpowers is, on the whole, a bit much for her. I Am Not Okay With This is the story of how she confronts and embraces all of these parts of herself. In the process, we get some humorous incidents and a heartfelt narrative. Based on the comic of the same name by Charles Forsman, the show was originally renewed for Season 2, but Netflix reversed its decision due to the COVID-19 pandemic. But the first (and only) season of the show has great reviews and is definitely worth the watch. — Remus Noronha
The Neighbor (2019-2021)
Creator: Miguel Esteban and Raúl Navarro
Cast: Quim Gutiérrez, Clara Lago, Adrián Pino and Catalina Sopelana
The Neighbor (Spanish: El Vecino) is another comedic origin story that takes a light-hearted approach to superheroes. Javier (Quim Gutiérrez) is a self-centered man who isn't exactly a moral champion or a super-smart billionaire. Nevertheless, he is gifted with strange new powers, and he must learn how to be a hero with the help of his neighbor. And he also has to hide his new abilities from the world, including his suspicious ex-girlfriend who is tasked with busting him.
It's a silly show but well-written and with some solid performances. The Neighbor might not have the kind of high-octane action story that one usually gets from superheroes, but it's a fresh take on the genre, and it's a good casual watch. There are two seasons of the show on Netflix totaling 18 episodes to binge. — Remus Noronha
Raising Dion (2019-2022)
Creator: Carol Barbee
Cast: Alisha Wainwright, Ja'Siah Young, Jazmyn Simon, Sammi Haney, Jason Ritter, Ali Ahn, and Griffin Robert Faulkner
While most superhero origin stories focus on the heroes themselves, Raising Dion shifts the spotlight to the mother of the person who has inexplicably developed superpowers. Considering the person in question is an eight-year-old named Dion (Ja'Siah Young), this makes for a very interesting story.
Based on Dennis Liu's 2015 comic book and a short film of the same name, Raising Dion is a heartfelt story of parenthood and the struggles of raising a child as a single mother. The child in question becoming a superhero just makes life a whole lot more complicated. With solid acting and a great story, Season 1 of Raising Dion has already become a big hit and a second season is on the way. — Remus Noronha
The Protector (2018-2020)
Creator: Binnur Karaevli
Cast: Çağatay Ulusoy, Ayça Ayşin Turan, Okan Yalabık, Hazar Ergüçlü, Burçin Terzioğlu, Engin Öztürk, Taner Ölmez, and Funda Eryiğit
An old-school superhero story, The Protector is a Turkish series that explores the adventures of Hakan Demir (Çağatay Ulusoy), a young man who is drawn into an ancient battle of good and evil. This four-season superhero drama was reportedly inspired by a mystery novel by Turkish author Nilüfer Ä°pek Gökdel titled Karakalem ve Bir Delikanlının Tuhaf Hikayesi (English: A Strange Story of Charcoal and a Young Man).
After his adoptive father is killed, Hakan Demir discovers that he's part of an ancient organization tasked with protecting Istanbul. Taking on the title of the Protector, Hakan must face the forces of evil, led by a mysterious being called the Immortal. It's an interesting show with some good performances. And as Netflix's first-ever Turkish original series, it has some beautiful scenes showcasing the city of Istanbul. — Remus Noronha​​​​​​​
The New Legends of Monkey (2018-present)
Director: Gerard Johnstone
Cast: Chai Hansen, Luciane Buchanan, Josh Thomson, and Emilie Cocquerel
Inspired by the cult classic Japanese series Monkey, this Australian-New Zealand television series is a fun fantasy adventure. Both The New Legends of Monkey and its original inspiration are based on the 16th-century Chinese novel Journey to the West, which tells the story of the legendary Monkey King.
A powerful immortal with a quirky, mischievous personality, Monkey (Chai Hansen) is freed after 500 years of imprisonment by a young scholar. With the world overrun by demons, Monkey is the best hope of beating back the forces of evil. Unfortunately, Monkey doesn't seem to have most of his powers, and he is forced to set off on an epic quest with his newfound companion and two gods named Pigsy (Josh Thomson) and Sandy (Emilie Cocquerel). The New Legends of Monkey is a fun, comedic adventure with lots of magic and kung-fu madness, making it quite an entertaining watch. — Remus Noronha​​​​​​​
Cyborg 009: Call of Justice (2017-present)
Creator: Shotaro Ishinomori
Cast: Keisuke Koumoto, Eiji Hanawa, Haruki Ishiya, Kazuhiko Inoue, Kenji Nomura, Masuo Amada, Misato Fukuen, Mitsuaki Madono, Risa Taneda, Ryou Sugisaki, Satoshi Hino, Setsuji Satoh, Takuya Satō, Yasunori Masutani, Yui Makino, and Yuko Kaida
Cyborg 009 is one of the most popular anime franchises of all time, based on the manga series by Shotaro Ishinomori. Following the adventures of nine cyborgs who rebel against their evil creators to save the world, the series has generated multiple TV shows, movies, and radio shows. Cyborg 009: Call of Justice was originally a three-part movie, which was edited down into a 12-episode series by Netflix for its international release.
It's an exciting show with tons of nostalgia for old fans of the franchise and a story that's original enough to attract new viewers. The series picks up with the Cyborgs living quiet lives in Texas, only to have their peace interrupted by the arrival of a reporter who has discovered the existence of an ancient conspiracy. A superhuman group called the Blessed has been controlling human society for a very long time and the Cyborgs must go to battle once again for the sake of all humanity. There's plenty of action and adventure to be had in this show, and it's a great hopping on point for people who are just discovering the franchise for the first time. — Remus Noronha
Devilman Crybaby (2018)
Director: Masaaki Yuasa
Cast: Kōki Uchiyama, Ayumu Murase, Megumi Han, Ami Koshimizu, Atsuko Tanaka, Rikiya Koyama, Avu-chan, Yasuhiro Takato, Kenjiro Tsuda, Ken the 390, Subaru Kimura, Young Dais, Hannya, and Afra
Based on the manga series Devilman by Go Nagai, Devilman Crybaby is considered one of the best Netflix anime shows. This dark fantasy superhero series has important mature themes and graphic violence, all playing out with trippy, mind-bending animation. It's visually brilliant and its plot, while divisive, is definitely one of the best-written anime stories you'll find on Netflix.
Akira Fudo (Kōki Uchiyama) is a high school student who is bonded to a demon. As a "Devilman", he fights against the demonic forces that threaten the world. Genocide and bigotry are two important themes in this limited series and there is a sense of tragic inevitability to the whole show. — Remus Noronha
Wu Assassins (2019)
Creator: John Wirth and Tony Krantz
Cast: Iko Uwais, Byron Mann, Lewis Tan, Lawrence Kao, Celia Au, Li Jun Li, Tommy Flanagan, and Katheryn Winnick
Wu Assassins is a more traditional superhero story. Its world is steeped in ancient Chinese philosophy but its setting is modern-day San Francisco. This thrilling fantasy martial arts series follows the adventures of a young chef named Kai Jin (Iko Uwais) who becomes a superpowered warrior.
Kai Jin is the latest in a long line of assassins tasked with killing the five Wu Lords: criminals with vast elemental powers. The plot does run a bit thin in places but the action more than makes up for that. With a star-studded cast and some excellent action sequences, Wu Assassins is a fun show for fans of superhero and kung fu stories. — Remus Noronha
Warrior Nun (2020-present)
Creator: Simon Barry
Cast: Alba Baptista, Toya Turner, Thekla Reuten, Lorena Andrea, Kristina Tonteri-Young, and Tristán Ulloa
Based on the character Warrior Nun Areala created by Ben Dunn, Warrior Nun is a thrilling supernatural superhero series. Ava Silva (Alba Baptista) is a 19-year-old orphan who wakes up in a morgue with strange magical powers. Joining a secret order of demon-hunting nuns, Ava wages war against powerful forces who want to control her.
The show has been praised for its cast and for its well-crafted fight sequences. Warrior Nun has one season available on Netflix and a second one is on its way. It's a wild, fun show that leans into its silly and absurd moments. It's not exactly a revelation, but it's a fun genesis story nonetheless. — Remus Noronha
Locke & Key (2020-present)
Creator: Carlton Cuse, Meredith Averill, and Aron Eli Coleite
Cast: Darby Stanchfield, Connor Jessup, Emilia Jones, Jackson Robert Scott, Laysla De Oliveira, Petrice Jones, and Griffin Gluck.
Locke & Key is a visual treat. The show is based on the comic books of the same name by Joe Hill and Gabriel Rodríguez and tells the story of three siblings who find a set of magical keys with strange powers. Realizing that there are evil forces that seek to claim the keys, these siblings must work together to save the world.
A superhero coming-of-age story, Locke & Key is a lot of fun to watch. The plot does tend to get muddled up in high school drama but when it does focus on the bigger picture, it reveals a very interesting, high-concept narrative. The show has one season already released with a second one coming in October 2021 and a third season in the works. — Remus Noronha
Mortel (2019-2021)
Creator: Frédéric Garcia
Cast: Carl Malapa, Nemo Schiffman, Manon Bresch, and Corentin Fila
A campy French supernatural series, Mortel is the story of three teenagers trying to solve and avenge a murder. To make things more complicated, two of the three heroes have a pact with a voodoo god that they desperately want to get out of. Chaos and madness ensue.
Mortel has a lot of issues with its plot but the cast puts up excellent performances. The music and art of the show are expertly crafted. Overall, Mortel is a fun superhero show to watch so long as you don't take it too seriously. And it's all wrapped together in a very stylish package. — Remus Noronha
The Irregulars (2021)
Creator: Tom Bidwell
Cast: McKell David, Thaddea Graham, Jojo Macari, Harrison Osterfield, Clarke Peters, Royce Pierreson, and Darci Shaw
A mystery show with a lot of heart, The Irregulars is a thrilling series loosely based on the Sherlock Holmes stories by Sir Arthur Conan Doyle. In the original stories, the Baker Street Irregulars are a band of street children who work as spies and messengers for Holmes. In The Irregulars, they're basically a team of superheroes.
Working under the supervision of Dr. Watson (Royce Pierreson), the show's young heroes solve supernatural mysteries. And while they search for answers, Sherlock Holmes himself appears to be a shadow of his former self and no one knows why. It's an exciting period drama that is a must-watch for mystery and fantasy fans. The superpowers are an added bonus. — Remus Noronha
Zero (2021)
Creator: Menotti
Cast: Giuseppe Dave Seke, Haroun Fall and Beatrice Grannò
Inspired by the novel I Was Never My Age by Antonio Dikele Distefano, Zero is a superhero story with a unique narrative. Weaving in social topics like immigration and gentrification, the show explores the Milan and Italy of today with a very fresh perspective.
Omar (Giuseppe Dave Seke) is a second-generation Italian boy of Senegalese descent with the power to make himself invisible. His life intersects with the stories of other children who live in public housing with him. To the world, it's like Omar doesn't even exist, but he is still forced to stand up against property developers who want to take away the only home he has left. It's a well-written and heartwarming story that's definitely worth checking out. — Remus Noronha
Arrow (2012-2020)
Creator: Greg Berlanti, Marc Guggenheim, and Andrew Kreisberg
Cast: Stephen Amell, Katie Cassidy, Colin Donnell, David Ramsey, Willa Holland, Paul Blackthorne, Emily Bett Rickards, Colton Haynes, and John Barrowman
Billionaire heir Oliver Queen spends five years shipwrecked on an island. And when he eventually does make it back home, he is a changed man on a mission to save his city. Arrow may not have been the first superhero show but it definitely set the standard for all the shows that have come after it. Stephen Amell's performance helped elevate the DC hero Green Arrow / Oliver Queen to a new level of popularity. Granted, the show isn't without its flaws. But while individual seasons have been letdowns, the show as a whole is still a powerful and influential story. Arrow redefined the way superheroes are shown on TV, and it's a show that fans of the genre should certainly watch. — Remus Noronha
DC's Legends of Tomorrow (2016-2022)
Creator: Greg Berlanti, Marc Guggenheim, Andrew Kreisberg, and Phil Klemmer
Cast: Caity Lotz, Dominic Purcell, Arthur Darvill, Brandon Routh, Victor Garber, Franz Drameh, Tala Ashe, Nick Zano, Jes Macallan, and Matt Ryan
DC's Legends of Tomorrow is what you get when you take all the Arrowverse characters you don't know what to do with and just let them go wild on the timeline. With time travel, demons, monsters, and other dimensions, there is literally nothing that's impossible on this show.
With no actual source material in the DC Comics, Legends of Tomorrow is a purely Arrowverse show that never stops pushing the limits. Its wacky, lighthearted tone is a breath of fresh air, and you can't help but love the show's rotating cast of superpowered goofballs. Starting with a simple mission to stop an immortal villain, the show has since evolved into a chaotic, bizarre, and truly wild ride that's probably one of the best of The CW's DC shows. — Remus Noronha