Valerie Jarrett responds to Roseanne Barr: The tone starts with the president

USA TODAY
5/29/2018
(Video provided by MSNBC)
WASHINGTON — Valerie Jarrett says President Trump bears some responsibility for a racist tweet from comedian and actress Roseanne Barr comparing the former Obama aide to an ape. 
"The tone does start at the top, and we like to look up to our president and feel as though he reflects the values of our country," Jarrett says in an MSNBC special, airing Tuesday night. "But I also think every individual citizen has a responsibility too, and it's up to all of us to push back. Our government is only going to be as good as we make it be."
Civic leader Valerie Jarrett attends the United State of Women Summit on May 5, 2018, in Los Angeles, California. (Photo by VALERIE MACON / AFP) (Photo credit should read VALERIE MACON/AFP/Getty Images) ABC canceled the reboot of Barr's Roseanne sitcom Tuesday after she tweeted tweeted about Jarrett: "Muslim brotherhood & planet of the apes had a baby." Barr deleted the tweet, swore off Twitter and apologized, but ABC canceled her show within hours.
Jarrett, an Iranian-born African-American and former senior adviser to President Barack Obama, was previously scheduled to participate in the MSNBC special, Everyday Racism in America, timed to coincide with the national conversation over racism as Starbucks closed its U.S. stores for racial bias training. 
(via MSNBC)
"I think we have to turn it into a teaching moment," Jarrett said.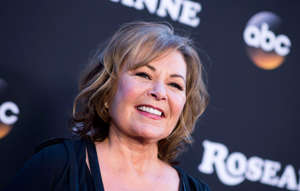 © VALERIE MACON, AFP/Getty Images Roseanne Barr attends the series premiere of "Roseanne" in Burbank, Calif. on March 23, 2018.ABC canceled its hit reboot "Roseanne" on May 29, 2018 following lead Roseanne Barr's racist tweets about former Obama White House adviser Valerie Jarrett on Twitter. "I'm fine. I'm worried about all the people out there who don't have a circle of friends and followers who come right to their defense," she said.
Barr has been a vocal supporter of President Trump, and he's returned the accolades. As recently as March, Trump told a rally in Ohio that Barr's blue-collar comedy reflected his supporters. 
"Even look at Roseanne. I called her yesterday. Look at her ratings," Trump said in Richfield, Ohio. "They were unbelievable. Over 18 million people. And it was about us.  They haven't figured it out; the fake news hasn't quite figured it out yet."