Storm whips Northeast with rain, floods; over 1 million customers lose power

CNN
3/3/2018
A powerful storm will pound the Northeast with drenching rain, howling winds and surging waves for a second day Saturday.

The nor'easter has already killed at least five people, prompted the cancellation of more than 3,300 flights, snarled ground traffic and knocked out power to more than 1 million customers -- with more than 440,000 of them in Massachusetts. Virginia had at least 301,671 customers without power, and the Washington, D.C., area counted over 154,000 people without power.
Massachusetts is taking the brunt of the storm, which hit Friday and is not expected to ease up until midday Saturday.
High tides powered coastal flooding in Boston and other towns, leaving city streets awash for the second time since a massive nor'easter in early January. Record-setting high tides might strike Boston Harbor late Friday night and late Saturday morning.
Kayakers paddled down Boston streets and national guardsmen rescued 50 people from their homes in nearby Quincy, sometimes carrying them to safety in the scoopers of front-end loaders, 
CNN affiliate WBZ reported
. Twenty-two million people were under a coastal flooding warning as of Friday.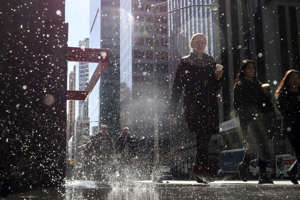 Photo gallery by photo services
"I'm fortunate to get rescued," Christine Way-Cotter of Quincy told WBZ. "Our house is lifted so, like, nothing came into our first floor but our whole basement is probably 6 feet under water."
Massachusetts Gov. Charlie Baker said he has called in the National Guard and urged vigilance. "Do not ride out the storm if you are told to evacuate," Baker said.
People who lost power won't get it back quickly. 
"People in these homes need to plan for a prolonged outage," Kurt Schwartz, director of the Massachusetts Emergency Management Agency, said at a Friday night news conference. "This is a multi-day restoration event."
"This is one of the more extreme storms in recent memory in terms of coastal flooding and damaging wind potential along the coast, but also includes heavy wet snow and heavy rain as important factors," MEMA said.
At least five people have died, according to authorities: a 77-year-old woman in Kingsville, Maryland; an 11-year-old boy in Putnam County, New York; a 44-year-old man in James City County, Virginia; a juvenile in Chesterfield County, Virginia; and a Newport, Rhode Island, man who was in his 70s. All were killed by falling trees.
The storm morphed into a "bomb cyclone" late Friday morning when it underwent so-called bombogenesis, signaled by an extreme drop in atmospheric pressure.
"Since 10 a.m., Thursday until now, this storm has rapidly dropped in pressure, officially passing the definition of 24 millibars in 24 hours," CNN meteorologist Judson Jones said Friday morning. "It continues to strengthen."
More than 3,000 flights canceled
More than 3,000 US flights have been canceled, including hundreds at the busiest Northeast airports in Boston, Philadelphia and New York, the flight-tracking website 
FlightAware.com
posted Friday.
Airlines, including Delta, United and Southwest, are offering fee waivers for flight cancellations or changes involving affected airports. Airports on the East Coast have been experiencing delays and ground stops, the Federal Aviation Administration said.
Amtrak also announced it had suspended train service between New York and Boston. Amtrak announced overnight that it would resume "modified" service on its Northeast Corridor between Washington and New York City at 6:20 a.m. ET Saturday, and would also resume service between New York and Boston beginning at 8:40 a.m.
Due to heavy winds, there currently are no arrivals/departures from #LGA. Please contact your airline for your flight's status before coming to the airport. [45]

— LaGuardia Airport (@LGAairport) March 2, 2018