Drenching storms to pause briefly stifling southeastern US heat late this week

AccuWeather
6/20/2018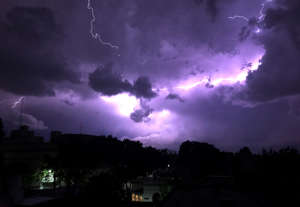 © Marcos Brindicci/Reuters Lightning strikes over Chacarita neighborhood during a thunderstorm in Buenos Aires, Argentina December 22, 2017. REUTERS/Marcos Brindicci TPX IMAGES OF THE DAY - RC13F1FC0720 Thunderstorms are expected to drench parts of the southeastern United States on Friday, amid an ongoing June swelter.

While hot and humid weather conditions are a given in the Southeast during June, July and August, the steam bath of late has produced above-average temperatures even by Southern standards.
Temperatures much of this week have been averaging 5-10 degrees Fahrenheit above average and will generally continue to do so through this weekend.
Highs will be generally in the lower to middle 90s with AccuWeather RealFeel® Temperatures well above 100 for a time during the midday and afternoon hours.

Even people accustomed to summertime conditions in the South should take periodic breaks from the heat in a cool environment or, at the very least, drink plenty of fluids and wear lightweight, light-colored clothing when possible.
The atmosphere will attempt to bring some natural cooling at the end of this week in the form of more numerous showers and thunderstorms than a typical late-June day.
As a storm moves in from the Mississippi Valley, it will cool the middle layer of the atmosphere. In turn, this cool air aloft, combined with a surge of tropical moisture, should make it much easier for downpours to develop on a regional basis by Friday.
Extensive cloud cover and coverage of showers and thunderstorms will generally keep temperatures over the interior South under 90 on Friday and perhaps Saturday.
Storms may be much less extensive south of the Interstate 16 and I-20 corridors east of the Mississippi.
By Sunday, the coverage of thunderstorms is likely to thin out, and temperatures are likely to again top 90 over a broad area.
While no widespread areas of drought currently exist east of the Mississippi River and south of the Mason-Dixon Line, abnormally dry conditions have developed at the local level in some communities where prior storms have missed in recent days. Most of these are south and east of the Appalachians and north of the Florida Peninsula.
So while downpours may interrupt outdoor plans and hinder travel from Friday to Saturday, the short-term rainfall is needed in some locations.
As is often the case with thunderstorms in the South during the summer months, where downpours linger for more than a few minutes or repeat over several hours, there is the potential for isolated flash flooding.
Motorists are reminded never to attempt to drive through flooded roads as the water may be much deeper than it appears, which may cause their vehicle to stall. In addition, the road surface beneath the water may have been washed away, and their vehicle could be carried away into much deeper water.
Driving through flooded roads puts not only you and your occupants in peril, but also your would-be rescuers and first responders.