Drone Saves Man's Life From Kilauea Volcano Disaster in Hawaii

The Drive
6/3/2018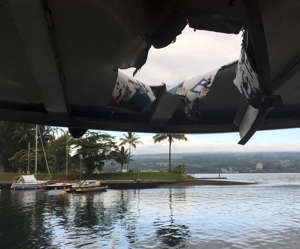 Photo gallery by Photo Services
According to Discover, the U.S. Geological Survey (USGS) was able to guide first responders via drone to rescue a Hawaiian man whose home was on the verge of being engulfed by lava from the Kilauea volcano.
The volcano erupted in early May and has resulted in thousands of evacuations and rampant destruction ever since. A few weeks ago, we managed to get a closer look at the situation when one of the Drone Racing League's pilots, Gab707, captured some aerial footage of the scene.
Last Sunday, the USGS piloted a drone to help an emergency crew navigate the harrowing landscape to save a life.
The USGS provided footage of the entire event as it played out. Its team was able to aerially locate the man trapped on his property and then use the drone to guide a rescue team out of harm's way.
© Barcroft Media via Getty Images Additionally, the drone camera's live stream was able to allow the USGS to direct other residents out of hazardous areas, due to the more informed bird's-eye view.
"Follow the drone to safety." USGS UAS mission in K?lauea volcano's lower East Rift Zone on 5/27/18 helps guide evacuations and leads to the successful rescue of a resident after a lava pond outbreak sends a fast p?hoehoe flow down Luana Street. https://t.co/S3nUtwYMdMpic.twitter.com/kpfjQI9pOX

— USGS Volcanoes???? (@USGSVolcanoes) May 30, 2018
You can see boots on the ground using flashlights to find the man, as the drone whirrs above as a practical mediator between command and the first response team. It's one way to save lives in a wide array of situations. In this case, a man escaped death by lava, due to a basic camera drone.
We've reported on the intersection of scientific research and unmanned aerial vehicles, before, too.
The Indonesian Disaster Mitigation Agency, for example, uses drones to sample the gases of Mount Agung to study the volcano's fluctuating phases and chemical shifts. NASA's Jet Propulsion Lab partnered with Black Swift Technologies earlier this year for similar studies in Costa Rica.