Heavy, gusty storms to blow through interior Northeast at midweek

AccuWeather
6/13/2018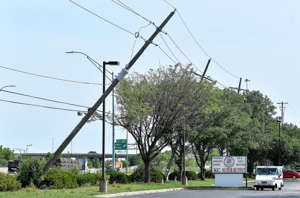 © John Sleezer/Kansas City Star/TNS/Getty Images One of several power poles leans along String Line Road near 122nd Street in Olathe, Kan., after high winds from a morning storm moved through the area on Saturday, June 2, 2018. A storm system racing eastward through southern Canada and into northern New England at midweek will trigger bands of heavy, gusty storms from western Pennsylvania to upstate New York into Wednesday evening.
The best chance for isolated incidents of damaging wind gusts and destructive hail will be in northern portions of Wednesday's threat area, closer to the center of the system.
Although rounds of showers will be possible throughout the day, the stronger storms should wait until the late afternoon and evening hours to fire up.
"Cities most likely to be impacted by the strongest storms will include Rochester, Syracuse and Buffalo, New York; Erie and Pittsburgh, Pennsylvania; and Ottawa, Canada," AccuWeather Meteorologist Ryan Adamson said.
Motorists may face delays during the afternoon commute from Buffalo to Pittsburgh and in surrounding areas west of the Appalachians. It is in these areas that the late afternoon should be the most disruptive time of the day.
During the evening hours, storms should rapidly move eastward and impact parts of the central and northern Appalachians. After they move east of the mountains, they are forecast to quickly lose their intensity and degenerate into widely scattered downpours.
"The main threat with the storms from central New York to western Pennsylvania will be gusty winds and brief downpours, although some hail will also be possible," Adamson said.
He added that a factor limiting the intensity of the storms will be extensive cloud cover. Morning and early afternoon sunshine is typically a key ingredient needed to trigger severe weather and add volatility to the atmosphere, especially across the Northeast.
"Thus, wherever breaks in the clouds develop on Wednesday, storms will likely become the strongest in those locations," Adamson warned.
Wind gusts of 35-50 mph will be common as the storms roll through. Sporadic tree and property damage, as well as isolated power outages, will be possible.
Heavy rain drenched much of Pennsylvania from Sunday into Monday and caused widespread flooding throughout the state. Streams and creeks spilled out over their banks, and flooding in the Interstate-95 corridor near Philadelphia was reported.
The water level on many of these streams is still running just below flood stage, so any additional rain could trigger another round of flooding concerns.
Residents living in flood-prone areas should keep an eye on the radar and be ready to seek higher ground in the event that water infiltrates their home.
There is a small chance that an isolated tornado spins up from central New York to parts of southeastern Canada into Wednesday evening, but a tornado outbreak is not in the offing.
Once the thunderstorms push off the coast Wednesday night, a surge of pleasant, refreshing air will dive into the Northeast to end the week before hot air currently baking the Plains returns in time for Father's Day weekend.