Major storm to usher in coldest air so far this season across central US next week

AccuWeather
11/30/2017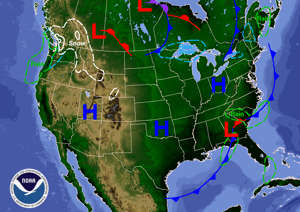 © NOAA
Following unseasonably mild conditions over the weekend, the central United States will get hit with a sharp blast of arctic air during the first week of December.
Residents who may have tucked away winter hats, gloves and jackets during the mild spell to end November will need to pull these items back out of the closet next week. Vehicles should be prepared to face an extended period of harsh cold.
Through Sunday, it will feel far from December for those picking up a Christmas tree or hanging holiday decorations outside. High temperatures will generally be 10-15 degrees Fahrenheit above average each day, ranging from the 40s and 50s F across the northern tier of the nation's midsection with 60s and 70s to the south. 
Parts of the southern Plains will even challenge record highs to close out the weekend.
"The recent stretch of mild weather will be coming to an end next week as a strong storm moves through the region on Monday," AccuWeather Meteorologist Ryan Adamson said.
A brief period of rain will precede the arctic invasion from Chicago to St. Louis and Little Rock, Arkansas. Locally severe thunderstorms are even possible from the mid-Mississippi Valley to Arklatex with damaging winds being the primary risk.
Any rain will help to alleviate the building drought.
As the advancing chill invades the storm, a transition from rain to snow or all snow is possible from the central Rockies to the northern Plains and Upper Midwest. Minneapolis could experience some wintry weather at the start of the week.
Behind the storm, the gates will be opened for cold air to rush in from Canada.
Adamson anticipates all of the central U.S. will experience much colder air through the balance of the week.
High temperatures will be no higher than the 20s and 30s F from the Dakotas to the western Great Lakes by the middle of the week. Highs in the South Central states will be slashed by 20 to 30 degrees Fahrenheit.
Blustery winds at times through the week will lead to significantly lower AccuWeather RealFeel&reg Temperatures.
"RealFeel temperatures will still fall into the single digits and teens at times," Adamson said.
The cold air will march eastward toward the Eastern Seaboard as next week progresses.
Unlike November's cold snaps which generally lasted a day or two in the Central states, this impending cold spell is expected to stick around for a while.
As we head into the second week of December, the cold pattern will appear to be locked in through the Rockies, Plains and Midwest as waves of arctic air hold temperatures well below normal, according to AccuWeather Senior Meteorologist Jack Boston.