PG&E warns storm could lead to repeat of downed trees, mass power outages due to saturated soil
ABC 7 San Francisco
3/28/2023
The Bay Area's 15th major storm of the season is barreling down on the region as residents have been recovering from the last event that knocked out power to hundreds of thousands of customers, according to PG&E.
Utility company officials say with soil still saturated from the last storm, they're preparing for the possibility of a repeat of outages and downed trees.
RELATED: Bay Area could see 3 storm systems over the course of next 2 weeks, expert says
At the height of outages, some people in places like Saratoga were without power for days.
Something still fresh in the minds of many homeowners.
"It was Tuesday through Thursday," Jerry Campbell, a Saratoga resident remembered, "The forecast was that the power wouldn't be back on until 10 o'clock that night."
Though the rain added to challenges, PG&E says it was high winds that caused the most problems.
"In the areas where we did see extended outages at one point because it was so windy there were some winds that exceeded 90 miles per hour our crews had to stand down," said PG&E spokesperson Mayra Tostado.
TIMELINE: Here's when the heaviest rain and strongest winds will come Tuesday
PG&E said that the Peninsula and South Bay were the hardest hit areas by the last major storm.
"What we saw in Santa Clara County just two weeks ago was historic," Tostado said, "At one point we had over 140,000 customers without power at over 400 outage locations."
PG&E says it's preparing for the areas to be hit just as hard again in large part because the impacts of the many storms we've seen this year are still lingering.
"With this new storm coming in, the soil not getting really a chance to dry, it is very likely that we'll see more trees falling, impacting our infrastructure and disrupting service," Tostado said.
RELATED: What you can do right now to prepare for a PG&E power shutdown
PG&E says they've removed more than 1,000 trees and are positioning crews in areas where getting access to damage may be difficult later as the storm sets in.
Right now, they remind everyone to stay prepared.
"Charge your phones ahead of time and if you need medications," Tostado said, "If there's an area that you need to evacuate because it's unsafe, ensure that you have an emergency plan ready."
'No way am I going to come here!" As rain and wind arrive in SF, some say they'll work remotely
Last week's storm and the storm the week before brought rain and heavy winds. Trees fell down and windows fell from buildings in San Francisco.
A boarded-up window could be seen at San Francisco's Millennium Tower late Monday, nearly a week after the glass fell out during last Tuesday's storm.
"I hope that no glass breaks downtown," said Jamie Rooney, who works in the Salesforce Tower.
Yes, many Financial District workers we spoke with hope glass like this, seen at 555 California Street two weeks ago, doesn't fall again. They also hope no additional glass falls in this problem area near Mission and Fremont Street.
"It was definitely scary. I work in the Salesforce Tower and we could see the glass falling. It was really crazy," said Rooney.
But even with the crazy weather, only one person we spoke with Monday told us they're changing their plans completely because of the wind and rain expected Tuesday.
"No way am I going to come here!" said Laura Fase, who works in the Financial District.
Fase is well aware that glass has fallen from at least five San Francisco buildings in the last two weeks during high wind events. Near her office, windows were being worked on Monday.
The Salesforce East building had the most broken windows last week with at least 19.
"It freaks me out. I was worried that some of our windows were going to crash," said Fase.
Monday, nearly a week after the last storm, our crews found small pieces of glass in the area where the windows fell.
But even that is not enough to keep people from staying home during Tuesday's expected storm.
"I don't have an option anymore. I wish I could work from home but that was a little bit in the beginning of it and now it's like all office times," said Tyler West.
"Unfortunately, I am coming to the city tomorrow. My job kind of requires me to be on site," said Waththanna Sin.
"I was probably thinking about this for a week now. Should I go in should I not go in? But I feel like I'll be OKy," said Jonathan Deguzman.
Now just a hope that winds will stay calm, and glass will stay put.
California has been hit hard by storm after storm so far this year. The big question now - has the rain had any impact on the state's water levels? Go here for a closer look at where we stand with the drought, snowpack totals and reservoirs.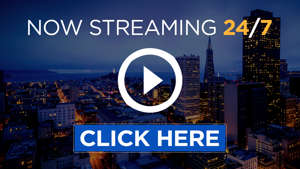 If you're on the ABC7 News app, click here to watch live