Snow comes to L.A., with powder in Malibu and Pasadena, while winter weather closes Grapevine

Los Angeles Times
2/22/2019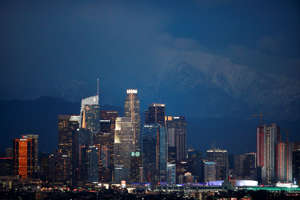 © AP Snow-capped mountains are seen behind the Los Angeles' downtown skyline at dusk Thursday, Feb. 21, 2019, in Los Angeles. (AP Photo/Jae C. Hong) Grab your warm jackets, Angelenos, because California is having a snow day.
An unusually chilly storm system that originated in Alberta, Canada, was lingering over Nevada and had already blanketed Las Vegas with snow early Thursday. Before daybreak, snow was falling in parts of the Southland, dusting Palmdale and the Lucerne Valley. By the early afternoon, it was snowing in Malibu and Pasadena, and winter weather had forced the closure of the 5 Freeway through the Grapevine.
"This is probably the coldest storm system I've seen in my time in California," said David Sweet, a meteorologist with the National Weather Service in Oxnard. "We've had cold mornings and freeze conditions, but I don't remember seeing anything quite this cold."
Snow levels had dropped to about 2,000 feet Thursday, and forecasters predict that up to 6 inches of powder could fall in the eastern San Gabriel Mountains. Snow levels could reach as low as 1,000 feet in Los Angeles County if heavier bands of showers move in through the day. That could mean the Santa Monica Mountains - and even some sections of the Hollywood Hills - might see snow, Sweet said.
The last time it snowed in Los Angeles was in January 1962, according to Los Angeles Public Library archives. During that storm, heavy snow fell in the mountains and high deserts and dusted parts of downtown and West Los Angeles. Most of the city snow, however, melted quickly.
Palmdale received a fresh dusting of powder overnight from the latest storm. Residents brushed the accumulation off their windshields before leaving for work early Thursday.
Falling snow levels prompted Bear Valley, Morongo, Snowline and Rim of the World school districts in San Bernardino County to close schools Thursday for a rare snow day.
"It's going to be a fairly unusual day," Sweet said, "to say the least."
With the snow also comes the potential for significant road closures and travel delays. The National Weather Service issued a winter weather advisory warning of hail and snow in the mountains and interior valleys through the evening.
Forecasters warned that the 5 Freeway through the Grapevine and Highway 14 from Santa Clarita to the Antelope Valley could see significant delays.
The 5 is likely to be the biggest concern because of the combination of strong northwest winds pushing moisture up the north-facing slopes of nearby mountains and cold temperatures. Motorists could see 3 to 6 inches of snow accumulation at the pass, according to the weather service. Around noon, the California Highway Patrol announced the Grapevine was closed in both directions because of snow.
The Los Angeles County Fire Department posted a tweet shortly before 1 p.m. of snowfall in the Santa Monica Mountains near Malibu Hills. Officials said the snow was at 1,500 feet, but there were reports of snowfall at even lower elevations in Malibu and Pasadena.
Highway 74 between Palm Desert's southern boundary and Highway 371 near Anza also remained closed because of snowfall, according to Caltrans.
The storm is expected to move out of the region overnight, but the chilly weather that has Angelenos bundling up will linger a bit longer. Overnight lows will drop into the high 20s in some areas, but the Southland will see some gradual warming beginning Friday and continuing through next week.
This week's cold snap has dropped temperatures low enough to break at least one record. The Santa Barbara Airport recorded a low of 33 degrees Tuesday, edging out the previous record of 34 degrees set in 1990, Sweet said.