Water rescues underway after Hurricane Florence makes landfall in North Carolina

WXII 12 Greensboro-Winston-Salem
9/14/2018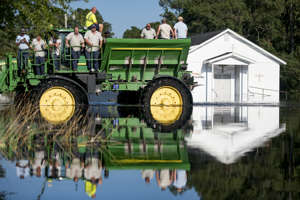 Gallery by photo services
Hurricane Florence is dumping rain on North Carolina and pushing a storm surge taller than most humans onto communities near the coast.
The center of the eye of the hurricane made landfall in Wrightsville, North Carolina, at about 7:45 a.m. Friday and was moving slowly westward just south of Wilmington.
Some areas in North Carolina have already had up to 15 inches of rain.
More weather coverage: Maps and models | Closing and delays | Evacuations | What to pack in your hurricane kit | Shelters | Power outages | Latest weather forecast | Send us your pictures | Traffic information | Report closings and delays | SkyCams | Download the WXII 12 News mobile app
© Provided by Hearst Television, Inc. The barrier island of Emerald Isle is under water, with ocean waves rolling in over a six-foot storm surge and crashing into homes.
At 11 a.m., forecasters said the center of Hurricane Florence was hovering just inland near Cape Fear, North Carolina.
RELATED: Latest Hurricane Florence spaghetti models, predicted path, watches, warnings, maps
It remains a Category 1 hurricane with top sustained winds of 80 mph (130 kph), but stronger wind gusts have been reported.
Florence was centered about 20 miles (30 kilometers) southwest of Wilmington, North Carolina, and about 55 miles (90 kilometers) east-northeast of Myrtle Beach, South Carolina. It was crawling west-southwest at 3 mph (6kph), lifting huge amounts of ocean moisture and dumping it far from the coast.
Hurricane-force winds extend outward up to 70 miles (110 km) from the center and tropical-storm-force winds extend outward up to 195 miles (315 km).
Forecasters said conditions will deteriorate as the storm pushes ashore and makes its way slowly inland.
More than 518,000 homes and businesses were without power Friday morning according to poweroutage.us, which tracks the nation's electrical grid.
WXII's Brian Slocum said Florence brought the highest wind speeds the Wilmington area has seen since Hurricane Donna on Sept. 11, 1960.
Federal officials are urging anyone who ignored orders to evacuate from Hurricane Florence to hunker down and stay put until the storm passes.
And they say people who are truly in an emergency should call 911, not just Tweet about it.
RELATED: YMCA offering everyone a place to shower, charge phones and rest at no cost this weekend
Charley English of the American Red Cross said anyone wondering how to help from afar can donate blood, registering first at their local Red Cross websites.
RELATED: Gallery of Hurricane Florence photos from Carolina's coasts
The disaster area was expected to get about as much rain in three days as the 1999 Dennis and Floyd storms dropped in two weeks.
About 9,700 National Guard troops and civilians have been deployed, with high-water vehicles, helicopters and boats. The Army Corps of Engineers were preparing to start work restoring power, installing temporary roofing and removing debris.
RELATED: Hundreds of thousands without power | Utility crews across the nation come to Carolinas | Search dogs deployed | Toast to Wilmington!
Measured another way, the same model predicts 2 trillion to 11 trillion gallons of rain will fall in the Carolinas over the next week.
The National Hurricane Center says Florence could dump 20 to 30 inches of rain, with some places getting as much as 40 inches.
Forecasters from the center are predicting a storm surge of 7 to 11 feet in the area from Cape Fear to Cape Lookout, with some higher amounts possible in the Neuse, Pamlico, Pungo and Bay rivers.
RELATED: How to help the elderly during a hurricane
They're estimating a storm surge of 2 to 4 feet from Edisto Beach to the South Santee River in South Carolina, and 6 to 9 feet from Cape Lookout to the Ocracoke Inlet in North Carolina.
Gov. Roy Cooper has asked President Donald Trump for another federal disaster declaration beyond what the president declared earlier this week.
RELATED: North Carolina's price gouging law: How it works and how to report it
Cooper requested the added disaster declaration Thursday because he anticipates what his office calls "historic major damage" across the state from the hurricane.
Cooper's office says the current emergency declaration is helping state officials prepare for the storm. It says the additional declaration would bring more federal help with debris removal, search and rescue teams, meals and generators, among other items.
Cooper is seeking the new declaration so that federal funds and other assistance can be received as soon as possible.
RELATED: 1-3 million power outages expected in the Carolinas due to Hurricane Florence, Duke Energy estimates
Many local communities in the Piedmont Triad have declared a state of emergency and opened emergency shelters due to the anticipated severity of Florence.
© Provided by Hearst Television, Inc. People are encouraged to stay off the roadways during the impact and post-impact time frames of the storm if reasonably possible, and to limit travel so as not to interfere with the efforts of emergency responders and repair crews.
Road crews with the North Carolina Department of Transportation in the Triad also continue to prepare ahead of the storm, such as making sure equipment is working and vehicles are gassed up, and cleaning drains and gutters along state-maintained roadways.
Locally our top concern will be the chance for inland flooding.
More than 25 percent of all U.S. deaths from tropical cyclones come from rainfall and flooding, that's triple the total from wind.
RELATED: Coastal residents make a mad dash inland to avoid Florence's impact
"The waves and wind in this storm may be like nothing you have ever seen," Cooper said. "Even if you've ridden out storms before, this one is different. Don't bet your life on riding out this monster."
The entire coast of North Carolina is under a hurricane warning and a storm surge warning. Inland areas are already under a tropical storm watch.
On Tuesday, President Trump granted Governor Cooper's request for a federal disaster declaration for North Carolina.
This will speed federal aid to the state and its residents, including bringing more FEMA representatives and military personnel to the state for preparation and relief efforts.
All parts of the state should prepare for extended rain and wind. The forecast shows Florence stalling over North Carolina, bringing as much as 20 to 30 inches of rain. Rivers and low-lying areas are expected to flood well inland from the coast.
In a press release Monday night, the White House said Trump issued an Emergency Declaration that lets agencies provide measures to "lessen or avert the threat of a catastrophe in all 100 North Carolina counties and the Eastern Band of Cherokee Indians."
The State Emergency Operations Center activated Monday to monitor the storm and will be ready to respond if needed.
State emergency management staff are coordinating with the counties and state emergency response team partners to identify potential needed resources, Emergency Management Director Mike Sprayberry said. State emergency management officials are also in contact with the National Hurricane Center and Federal Emergency Management officials.
"Our local, state and federal partners are taking Florence seriously and making sure we are prepared to respond to any North Carolina impacts from the storm," Sprayberry said. "North Carolina residents can help by getting their supply kits ready and reviewing their emergency plans."
HURRICANE PREPARATION PLAN:
Make a family communications plan
Know the routes you need to leave your home (evacuation routes)
Locate your local emergency shelters
Closely watch/listen to the weather reports
Listen every hour as a storm nears.
Put fuel in all vehicles and withdraw some cash from the bank. Gas stations and ATMs may be closed after a hurricane.
If authorities ask you to leave, do so quickly
###li
RELATED:
North Carolina's coast boarding up, shipping out ahead of Florence
President Trump approves North Carolina emergency declaration ahead of Florence
Forsyth Humane Society asks for donations, offers 'Furricane Florence' cat adoption special
READ MORE:Water rescues underway after Hurricane Florence makes landfall in North Carolina
CHECK OUT WXII:Get the latest Greensboro, High Point and Winston-Salem news of the day. Catch the top stories, sports and weather from the team at WXII12.