Nigerians List Antidotes To Rising Police Brutality, Killings

Daily Independent
07/04/2019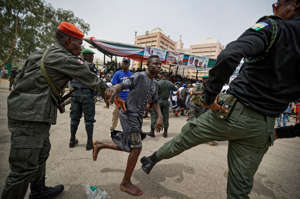 © AP Nigeria Police
LAGOS – There is no denying the fact that Nigerians are living under the siege of law enforcement agents, particularly the police.
The renewed killings of innocent Nigerians by officers and men of the police is worrisome and unwarranted. The development, coupled with killings, abductions, kidnappings are gradually eroding the confidence of Nigerians in the art of governance. It is also putting the acting Inspector General of Police Mohammed Adamu under scrutiny with regards to his ability to arrest the situation.
Questions being asked by most Nigerians are whether the reform carried out by the federal government on Special Anti Robbery Squard (SARS) which was said to have been transformed into Federal SARS last year was a mere political gimmick.
Whether as SARS or Special Anti Cultism Squad (SACS) and in Lagos in particular, the yellow danfo bus has become the vehicle of choice for the officers of these units who regularly carry out raids that improperly profile young Nigerians based on mode of dressing, hairstyle, tattoos and any other made up crime they can exploit to extort money from their helpless victims.
Their modus operandi in recent times have left a lot to be desired as officers appear to have taken it upon themselves to act as the fashion police while jeopardising the civil liberties of everyday Nigerians, with youths being their prime targets.
For nearly two years, there has been a concerted effort by a great portion of Nigerians, especially on social media, to pressure the government into scrapping the SARS of the Police Force (NPF).
Related Slideshow: News in pictures (Provided by Photo Services)
SARS' notoriety has grown so great in the country that when news filtered on social media that police officers irresponsibly shot and killed Kolade Johnson, a 36-year-old father of one, in Lagos on Sunday, March 31, many wrongly pointed accusing fingers at SARS.
Johnson's fatal shooting and, more importantly, the events that led up to it has now beamed a stark spotlight on the years of improper conducts committed by SACS officers who, like their SARS counterparts, appear to prosecute the nation's laws based on their personal whims and wield their power to torture, extort, and, in most cases kill innocent Nigerians.
Police stations have become extortion centres where virtually complainants are forced to pay for everything including bail.
In fact, those who cannot pay their way out are sometimes paraded before the media as suspected cultists who are then charged to court and sometimes languish in Nigeria's abhorrent prison system.
The institutional dysfunction of the Police Force and the largely unchecked menace of SACS and SARS officers is one that has been on for years without gaining national spotlight like it has after the unfortunate shooting of Johnson.
His death has led agitation not only to scrap these units as part of the government's haphazard reform efforts, but also given room for calls to totally revamp the police force. Some concerned Nigerians and organisations believe that the time has come for government to carry out total overhaul of the force as well give meanings to its reforms.
For instance, Amnesty International, human rights group, says the reforms Vice-President Yemi Osinbajo initiated during the heat of the campaign against SARS, are not working.
In August when President Muhammadu Buhari went on vacation abroad, Osinbajo, who acted on his behalf, had ordered the reorganisation of SARS.
According to the Amnesty International, it is shameful that more than two years since the organisation highlighted crimes under international law and human rights violations by SARS, these shocking incidents continue unabated.
"All subsequent government pledges to reform SARS, including one by Vice President Yemi Osinbajo in August last year, have amounted to nothing," the organisation said in a statement.
Senate President Bukola Saraki revealed last week that the outgoing Assembly is committed to improving the security architecture through the passage of the Police Reform Bill 2018.
But, Friday Ameh, an analyst says while it is hoped that this would improve the operational conduct of the force in quite a few ways if passed, the human problem remains, and if it is not SARS, it is SACS, or whichever unit is so empowered.
Femi Aborishade, Human Rights Lawyer says that the wanting killings portend that we have a regime, a government in place that has no regard for fundamental human rights particularly in terms of the security and the right to life. It also means that impunity is the norm rather than the exception. In that situation and from the point of view of the economy, no investor would want to invest in an environment where there is no security of lives and property.
"It is one thing for them to proclaim that SARS has been reformed, but what is important is for government to frown against impunity," Aborishade said.
Yinka Odumakin of the Afenifere group believes that the development "portrays our polity as a barbaric one where human lives mean nothing and our security operatives don't have any value or premium placed on human lives. It has serious implications on our economy. If the foreign investors have options they will not come to our country, and depending on oil alone is not good for the economy."
To Aremo Oladotun Hassan, Chairman, NBA, Lekki Forum, one could equate the development to state of anarchy whereby laws are not been obeyed and the rule of thought has overridden the rule of law.
Malachy Ugwummadu, National President, Committee for the Defence of Human Rights, (CDHR) says the rising incidence of avoidable killings, extra judicial killings and violence will cause unimaginable losses on insecurity and uncertainty and one that exposes the citizens to very dangerous circumstances of existence.
"In addition, it will make nonsense the prospect of growth in a way that challenges the so many years of efforts already wasted in training people who are now being killed on daily basis," he said.
He also added that the development is capable of creating "another atmosphere of anxiety, uncertainty in the minds of investors who are very frightened that the circumstance of the country is such that you might not just lose your investment, you are also liable to losing your life."
Suraj Olanrewaju, Executive Director HEDA, said, "No nation ever develops by killing its future and driving its people abroad. Nigeria lacks not only visionary leadership in many of its ruling elites, its leadership is populated by self vampires and monsters, who do not care about lives of others except those of their immediate families."
Speaking further, he said, "The system criminalises the youth and turns around to accuse them of being lazy and irresponsible. The economic future of the country is bleak under the current tragedy of hopelessness among the young people and State exterminating its future glory for every minor infraction."
Chief Vincent Oyibode, Special Assistant to Governor Okowa on Community Development, said it is truism that the rate of killing and police brutality is becoming alarming in the Nigeria politics. The Buhari administration has make federal institutions fall in their duties especially the police and the army.
"Also, the judiciary that is supposed to be the hope of the common man has been bastardised, nowhere to seek for justice," he said.
According to Oyibode, the Nigeria state needs to be restructured to give room for state police, state constitutions and true federalism.
Chief Sunny Onuesoke says that the citizens are no longer safe with the security any longer. The killing has bastardised the polity and the economy. People no longer feel safe with the Nigeria police protection.
Bunmi Awotiku, Ekiti State Coordinator, Afenifere Renewal Group (ARG) says the renewed killings of innocent Nigerians by officers and men  of the Nigerian Police is worrisome and unwarranted.