These Are the Top Meal Replacement Shakes for Weight Loss

Prevention
16/04/2019
Disclaimer: Views expressed in this article are the author's own and MSN does not endorse them in any way. Neither can MSN independently verify any claims made in the article. You should consult your physician before starting any weight loss or health management programme to determine if it is right for your needs.
When you're pressed for time but don't want to give into the temptation of fast food for dinner, your blender can save the day by allowing you to whip up a smoothie with all the nutrients of a complete meal. Even some store-bought shakes can help do the trick when you're that rushed for time.
Even if you're using shakes and smoothies to for weight loss, know that lots of store-bought drinks and homemade smoothies are high in sugar with not enough protein, fat, fiber, or even calories to constitute a real meal - let alone keep you feeling full until your next nosh. (So if you just have a meal replacement shake, you may be more likely to binge eat later.) Follow these tips to get the most out of your meal replacement shake and achieve your weight loss goals:
Related Slideshow: Breakfast foods that aid in weight loss and how (Provided by Photo Services)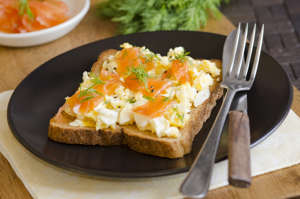 How to use meal replacement shakes
In reality, having a meal replacement shake on its own isn't enough. The best way to get the most out of meal replacement shakes is to pair it with healthy snacks that can help you turn it into a full-on meal. This way, you're feeding your body all the nutrients it needs to keep you moving throughout your day.
You should aim to consume roughly 325 to 400 calories, 15 to 25 grams of protein, 5 grams of fiber, and 10 to 13 grams of healthy unsaturated fat, says Wendy Bazilian, DrPH, RD, author of The SuperfoodsRx Diet. Otherwise, you might be feeling hungry way before your next meal.
Here are 13 store-bought and homemade meal replacement shakes that stack up nutritionally. Plus, exactly what you can pair them with if you need to make them more filling on-the-go.
Store-Bought Meal Replacement Shakes
Most store-bought meal replacement shakes are low in calories, so drinking them alongside ready-to-eat foods can make for a more filling, healthy meal.
Orgain Organic Nutritional Shakes
If you're looking for an all-organic meal replacement shake, look no further than Orgain. All five flavors-creamy chocolate fudge, sweet vanilla bean, strawberries and cream, bananas and cream, and iced café mocha-pack 16 grams of grass-fed whey protein powder. 

Make it a meal: Supplement this sweet drink with about 1/2 cup of plain Greek yogurt topped with 1/2 cup raspberries for an additional 105 calories, 10 grams protein, 2 grams fat, and 4 grams fiber.
Nutrition info: 250 calories, 7 g fat (1 g saturated fat), 32 g carbs (2 g fiber, 12 g sugar), 260 mg sodium, 16 g protein
EAS Myoplex Original Shake
Designed as a post-workout pick-me-up, this shake from EAS does double duty as a meal replacement when you're tight on time, delivering an incredible 42 grams of protein from a mixture of whey and pea protein powders. With 300 calories in every 17-ounce carton, the drink also has a decent amount of fiber and fat to keep you satisfied. Find it in dessert-like flavors such as chocolate, vanilla, and cookies and cream. 

Make it a meal: This shake should be pretty satisfying on its own, but if you find you need to eat a bit more to feel full, you can pair it with one small apple for an additional 77 calories and 4 grams of fiber.
Nutrition info: 300 calories, 7 g fat (1 g saturated fat), 20 g carbs (1 g fiber, 2 g sugar), 370 mg sodium, 42 g protein
Vega Protein Ready to Drink Shake
These plant-based shakes from Vega are packed with nutrition, thanks to their impressive list of real ingredients, like pea and hemp protein, flaxseed, cocoa powder, and a mix of greens powders (from plants like kale, spinach, and organic spirulina). One shake contains 20 grams of vegan protein and 4 grams of fiber. 

Make it a meal: Paired with one sliced hard-boiled egg (prep a bunch on Sunday and keep them in your fridge for the week!) on a piece of multi-grain toast, you'll down an additional 147 calories, 8 grams of protein, 5 grams of fat, and 2 grams of fiber.
Nutrition info: 170 calories, 5 g fat (1 g saturated fat), 14 g carbs (4 g fiber, 7 g sugar), 230 mg sodium, 20 g protein
CalNaturale Svelte Protein Shakes
What we like about CalNaturale Svelte Protein Shakes: They're low in sugar (only 6 grams per shake), high in fiber, and made with organic soy protein. They also come in taste-tempting flavors like banana crème, cappuccino, and spiced chai, along with the standard chocolate and French vanilla. 

Make it a meal: Save these drinks for when you can pair them with something small-like 1/2 cup 2% cottage cheese and 1 cup of sliced strawberries-to turn them into a complete meal. This way, you'll add about 150 extra calories, 13 grams protein, 3 grams fiber, and 2.5 grams fat.
Nutrition info for chocolate: 180 calories, 7 g fat (1.5 g saturated fat), 21 g carbs (5 g fiber, 6 g sugar), 135 mg sodium, 11 g protein
Muscle Milk
The name speaks for itself: These delicious shakes pack 25 grams of muscle-building protein per bottle, along with 5 grams of satiating fiber for only 160 calories. You'll definitely find one you like, since they come in a variety of delicious flavors like banana crème, chocolate, cookies 'n cream, strawberries 'n cream, and vanilla-most of which have no added sugar (the strawberry flavor does contain one gram). 

Make it a meal: While the protein and fiber in this drink hits the mark, 160 calories is still pretty low for a meal. Pair this meal replacement shake with a small banana drizzled with 1 tablespoon of peanut butter for an extra 186 calories, 4 grams protein, 3 grams fiber, and 8 grams of healthy fat.
Nutrition info: 160 calories, 5 g fat (1 g saturated fat), 9 g carbs (5 g fiber, 0 g sugar), 300 mg sodium, 25 g protein
Premier Protein Shakes
With more than 1,700 reviews on Amazon, it's clear these shakes are a crowd favorite. And for good reason: The typical bottle offers 35 grams protein (along with calcium, iron, and vitamins A, C, and D) for only 160 calories and 1 gram of sugar. However, these drinks are low in both fiber and fat, so you may want to sip on one with a snack on the side for a complete meal replacement. Still, if you're craving something sweet, they come in satisfying flavors like cookies and cream, peaches and cream, chocolate, vanilla, and more. 

Make it a meal: If you're grabbing this shake for breakfast and know you need to keep hunger at bay until lunch, drink this shake after you nosh on a slice of multi-grain bread topped with 1/4 of an avocado. You'll boost your meal by 150 calories, 6 grams of filling fiber, and about 8 grams of healthy fats.
Nutrition info: 150 calories, 1 g fat (0 g saturated fat), 1 g carbs (0 g fiber, 1 g sugar), 150 mg sodium, 35 g protein
Iconic Grass Fed Protein Drinks
With 20 grams of grass-fed milk protein, 4 grams of fiber, and 3 grams of sugar per bottle, these shakes are a great choice when you're in a rush. While they're packed with calcium, magnesium, and vitamin B12, they are super low in fat and only offer 130 calories, so you'll definitely need to pair this tasty meal replacement drink (available in flavors like chocolate, coffee, vanilla bean, golden milk, and even coconut matcha) with a little something to keep hunger pangs at bay. 

Make it a meal: Simply snack on 1 ounce of almonds to boost the calories (164 more) and healthy fat (14 grams more) this drink lacks.
Nutrition info: 130 calories, 2 g fat (0 g saturated fat), 8 g carbs (4 g fiber, 3 g sugar), 220 mg sodium, 20 g protein
Labrada Whey Protein Shake
While this meal replacement shake is on the low side calorie-wise (280 calories), it also boasts 40 grams of protein and 5 grams of fiber, making it one of the most filling choices on this list. It also has zero grams of sugar and is lactose-free, making it an excellent pick for people who are sensitive to dairy. 

Make it a meal: Snack on some celery sticks (30 calories) with a tablespoon of almond butter (98 calories).
Nutrition info: 280 calories, 9 g fat (1 g saturated fat), 9 g carbs (5 g fiber, 0 g sugar), 600 mg sodium, 40 g protein
Soylent Meal Replacement Shake
Soylent's vegan-friendly meal replacement shakes are 400 calories, which makes it a convenient choice for a full-on meal when you don't have time to pick up breakfast. It also has 20 grams of protein and 3 grams of fiber, plus hefty doses of vitamin D, iron, magnesium, and other nutrients. 

Nutrition info: 400 calories, 21 g fat (1.5 g saturated fat), 36 g carbs (3 g fiber, 9 g sugar), 300 mg sodium, 20 g protein
Apres Vegan Protein Shake
With 14 grams of protein, hunger-curbing coconut oil and hydrating coconut water, this plant-based protein drink is the perfect beverage to sip on post-workout. Thanks to its proprietary protein blend of pea protein, chia, and hemp, this meal replacement shake delivers a complete amino acid profile. 

Make it a meal: Pair this shake with 6 baby carrots (24 calories), 3 tablespoons of hummus (75 calories), and 11 whole-wheat pita chips (about 120 calories).
Nutrition info: 180 calories, 8 g fat (5 g saturated fat), 15 g carbs (2 g fiber, 5 g sugar), 530 mg sodium, 14 g protein
Homemade Meal Replacement Smoothies
The easiest way to make sure you get enough calories and satisfying nutrients in your meal replacement shake? Blend one up yourself with the help of these weight-loss-friendly recipes.
Cashew Butter Blueberries and Cream Shake
Craving deliciously sweet blueberry pie? Blend up blueberries and cashew butter instead-you'll get a hefty dose of fiber and healthy fats. While this meal replacement shake only contains 8 g of protein on its own, you can easily add a scoop of your favorite protein powder (vanilla would be great here) to bump that amount. For only 345 calories, your sweet tooth will definitely be satisfied.
Blend the following to make one serving:
1 medium ripe banana
1/2 cup frozen blueberries
1/4 cup rolled oats
1 Tbsp cashew butter
1/2 tsp pure vanilla extract
3/4 cup unsweetened almond milk
Peanut Butter Banana Power Breakfast
Greek yogurt and peanut butter deliver 25 grams of protein, along with 8.5 grams of fat and 6 grams of fiber, in every 370-calorie serving of this power smoothie that's perfect for your morning meal.
Blend the following to make one serving:
1 medium banana
½ c fat-free plain Greek yogurt
1 c fat-free milk
1 Tbsp cocoa powder
1 Tbsp natural peanut butter
6 ice cubes
Get-Ahead Gingerbread Smoothie
Get festive with this gingerbread smoothie that also makes an ideal meal replacement or even post-workout snack. With a winning combo of yogurt and nut butter, this spiced smoothie clocks in at 420 calories, 24 g of protein, and 5 g of fiber per serving.
Blend the following to make one serving:
7 oz 2% Greek yogurt
1 cup ice cubes
¼ cup frozen sliced banana
2 Tbsp almond butter
1 Tbsp molasses
1 tsp grated ginger
¼ tsp cinnamon
1/8 tsp each nutmeg and cardamom
Stay updated on the latest science-backed health, fitness, and nutrition news by signing up for the Prevention.com newsletter here.