Time to go, Theresa May told as she faces Cabinet high noon

Evening Standard
14/05/2019
© Provided by Independent Digital News & Media Limited

Theresa May faced a Cabinet showdown over Brexit today as senior Conservatives warned her to resign as Prime Minister within weeks — or be forced out.
Just hours before the crunch meeting at No 10, the Prime Minister gave a concession to furious Tories by ruling out a "permanent" customs union deal with Labour.
But Mrs May appeared to be clinging to hopes of a compromise that would involve a temporary customs union lasting until the next general election. Cabinet Right-winger Andrea Leadsom, the Commons Leader, upped the pressure by telling reporters on her way to Downing Street that Brexit needed to be "urgently" settled.
"We had the local elections a couple of weeks ago and I totally get the message," said Mrs Leadsom, a likely leadership contender, referring to the disastrous results for her party. "We've got to get on with Brexit, we have to deliver it. So whatever that takes we have to deliver Brexit urgently." Tensions rose when 13 former Cabinet ministers and the chairman of the 1922 Committee of Tory backbenchers wrote to Mrs May warning her that if she backed "any customs union" with Labour she would forfeit the "loyal middle of the Conservative Party".
A No 10 source suggested a temporary customs deal with a clear exit clause could be on the cards. He said: "We will not sign up to a permanent customs union. We are trying to find a compromise on customs as an interim position or a stepping stone. Both sides agree that no Parliament can bind a future government and most EU trade deals have a six- to 12-month exit clause."
© Provided by Independent Digital News & Media Limited Under pressure: Theresa May leaves the House of Commons on Monday (PA) But both Mrs May and Labour leader Jeremy Corbyn came under huge pressure from their backbenchers and some frontbenchers not to strike a bargain in cross-party talks that would alienate supporters.
Sir Geoffrey Clifton-Brown, treasurer of the 1922 Committee, warned Mrs May to step down voluntarily or risk a vote of no confidence under new rules.
He even urged her to go within days to limit the battering that the Conservatives are facing in the European Parliament elections on May 23.
"I would like her to go, preferably before the European elections ... but if not, fairly soon afterwards," the veteran MP, who could be key in triggering new leadership rules designed to push Mrs May out, told the Evening Standard. "She should go by early to mid-June."
© Provided by Independent Digital News & Media Limited image Mrs May is set to meet the 1922 committee executive on Thursday after it requested that she set out a timetable for leaving Downing Street. The committee voted nine to seven last month against bringing in new rules that would allow a fresh confidence vote in Mrs May's leadership before December, and the decision is now on a knife-edge.
Sir Geoffrey was the third senior 1922 member to issue public warnings today, alongside committee chairman Sir Graham and committee co-secretary Nigel Evans.
Sir Geoffrey was reported to have voted against changing the rules last month and now ready to change sides. He refused to discuss proceedings at the committee, but believed colleagues may be "motivated to take action" if Mrs May refuses to give a timetable. Mr Evans branded the talks with Labour as a "cosmetic exercise" and echoed the warning against a customs union.
Related slideshow: Leave vs Remain - Brexit reveals a divided UK (Provided by Photos)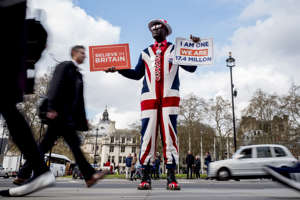 "We took a pasting in the local elections very recently and we've got the European Union elections coming up," he told Sky News.
"If we carry on with these talks, and if we carry on with this stalemate, then clearly we need to know exactly when the Prime Minister is going to go from No10."
Mrs May's top Brexit negotiator Olly Robbins travelled to Brussels today to seek to hold talks on reopening the political declaration in the withdrawal deal to reflect any agreement between No 10 and Labour. However, no talks were scheduled today, sources said. Mr Corbyn came under fire from both pro-Remain and pro-Brexit Labour MPs at a stormy meeting of the Parliamentary Labour Party last night.
Wes Streeting, the Ilford North MP, warned Mr Corbyn that he would lead them to electoral defeat and was "a bigger issue for us than Brexit".
Explaining his position on Twitter, Mr Streeting said: "I only said what too many say in the tea room, but won't say to Jeremy's face, about what voters are saying on the doorsteps. It wasn't this bad with Ed [Miliband]. Some of us warned back then that we'd lose in 2015. We weren't listened to then either, leading to Tory majority and Brexit."
Pro-Remain MP Peter Kyle told the Labour leader their message on a second referendum had been too complicated and had left voters perplexed.
Pro-Brexit MP John Mann called on Mr Corbyn to give MPs a free vote on Brexit issues to reflect the divisions in the party and the country.
A senior Labour source told the Standard that yesterday's cross-party talks "did not yield substantive progress".