Two ships collide in Mediterranean near Corsica

dw.com
08/10/2018
Two cargo ships collided in the Mediterranean Sea near the island of Corsica on Sunday, causing a leak that is most likely fuel, coastal authorities said.
The Ulysse, operated by the Tunisian operator CTN, ran into the Cyprus-based CLS Virgina while it was anchored about 30 kilometres (20 miles) off the northern tip of the island at around 7:30 a.m. local time, the regional naval authority said in a statement.
No one was injured but "the collision caused considerable damage, with an opening several meters long in the CLS Virginia's hull," the statement said.
Related: News in pictures (Provided by photo services)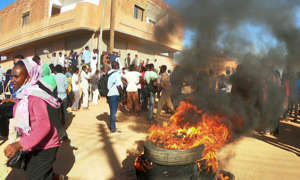 The spill created a trail of pollution 4 kilometers long and several hundred meters wide, heading away from Corsica to the northwest, toward the French and Italian mainland, the statement continued.
Spill likely fuel

Officials said they were yet to identify the liquid, but a source close to the inquiry told French news agency AFP it was probably leaking "from one of the fuel tanks."
The Tunisian ship "was maybe going too fast compared to its ability to react," the source told AFP.
Read more: Almost all German lakes and rivers face ecological crisis
According to the CTN's published shipping schedule, the Ulysse was traveling from Genoa in Italy to the Tunisian port at Rades near Tunis.
A tugboat has been sent to the scene and the French navy has also provided a vessel specialised in containing and cleaning up pollution spills.
Italy has also offered its assistance as part of the Ramogepol accord between France, Italy and Monaco to jointly intervene in cases of maritime pollution.