Salma Hayek: Every woman is strong

BANG Showbiz
06/02/2021
Salma Hayek thinks "every woman is strong".
The 54-year-old actress is well-known for playing "strong" female characters, but she insists it isn't a conscious decision to seek out particular roles.
She explained: "I don't think about it too much, but I guess I gravitate to them naturally. It's not that I say, 'if it's not a strong woman, I'm not going to play it'.
"Because you know what? I think every woman is strong, I think every woman is strong in different ways."
In her new movie 'Bliss', Salma's character tries to convince a man that he's living in a simulation.
The actress' character is depicted as either a d**g addict or an innovative scientist in the film, and she relished the challenge.
Speaking to Sky News' 'Backstage' podcast, the Hollywood star shared: "I like uniqueness, I love the possibility of playing two strong female leads in one film.
"I get to play two characters and two characters I've never played - either one of them. But I did like that she was bossy."
Related Slideshow: Latin and Hispanic actors who made it big in the US (Provided by Photo Services)
Gallery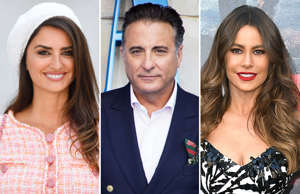 Salma also thinks that the themes of the film have been echoed in our lives since the start of the coronavirus pandemic.
The veteran actress observed that people have become increasingly reliant on technology since the start of the global health crisis.
Salma - who stars alongside Owen Wilson in the movie - said: "When we came out [of filming] and I was reading articles and all that and everything, my whole universe, everybody started to change.
"We all have gone through a tunnel of incertitude, you know, and I started seeing how everybody started creating their own 'Bliss' world through technology in their house, where they could escape.
"And that became everybody's reality for this time as a coping mechanism."