This one simple tweak to my bedtime routine dramatically changed my sleep quality

Evening Standard
06/03/2019
© Provided by Independent Digital News & Media Limited
Editor's note: The opinions in this article are the author's, as published by our content partner, and do not represent the views of MSN or Microsoft.
Many experts argue that getting sufficient sleep is as important to your overall health as diet and exercise. Sleep deprivation is linked to a number of serious health problems, including depression, yet we're sleeping less than ever.
About a year ago my boyfriend started religiously drinking a cup of chamomile tea before bed. Not a huge fan of herbal teas myself, and as I don't usually have trouble getting to sleep, I had never joined in this bedtime ritual and dismissed the idea as somewhat of an old wives' tale.
That was until a few months ago, when I went through a period of really struggling to sleep thanks to a combination of the really hot weather and adjusting to a new routine having started a new job. One evening after several terrible nights sleep in a row, exhausted, I reluctantly accepted a cup before bed, and now I won't willingly hit the hay without it.
While I may not have struggled to get to sleep, I would often wake easily in the first few hours of my sleep cycle and could sometimes spend whole nights tossing and turning, drifting in and out of almost sleep.
Related Slideshow: 15 scary reasons you need more sleep (Provided by Photo Services)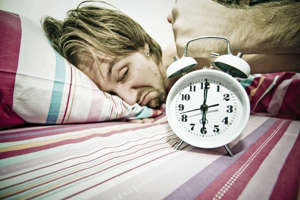 But from the first sip, I found it had a deeply calming and settling effect on me and when I woke the following morning I noticed a real difference in the quality of that night's sleep. I'd had a truly deep slumber.
Now I really notice the difference in my sleeping pattern when I haven't had a cup before bed.
Of course, I haven't discovered anything new, chamomile is one of the oldest and most trusted medicinal herbs on record and people have been drinking chamomile tea to treat insomnia and induce sedation since ancient times. Yet it remains a relatively under-hyped, possibly forgotten, sleep aid – plus it's cheap and easy to incorporate into your nighttime routine.
We asked Lily Soutter, a nutritionist at herbal tea specialist at Heath & Heather, why chamomile tea has such a calming and sleep-inducing effect.
"Camomile tea is not technically a tea, as it doesn't contain any tea leaves; rather it's a herbal infusion made from dried camomile flowers," she said. "It is a rich source of special plant compounds called apigenins."
Apigenins are plant compounds found in a number of fruits and vegetables, but parsley, celery, celeriac and chamomile tea are the most common sources of them. 
"These compounds have been shown to exert anti-anxiety effects, and when consumed at higher doses may also have sedative effects," she went on. "These effects are down to apigenin's ability to bind to benzodiazepine receptors in the brain, which are responsible for providing a sense of calmness and sedation."
Aside from sleep and anxiety, chamomile tea has been linked to a number of other potential health benefits, she adds including reducing menstrual pain, reducing inflammation and helping to lower blood sugar levels.
"Traditionally camomile tea has been used to treat nausea and gas and there are a few studies suggesting that this tea may promote better digestion too," she added. "Whilst more research is needed to confirm camomile's role in digestion, there are many anecdotal claims in relation to chamomile tea's soothing effects on the stomach."
Other studies have linked chamomile tea to boosting the immune system and helping to fight common colds.
Apigenins have even previously been linked to cancer prevention. In a 2013 study, researchers from Ohio State University found that these compounds can alter the way breast cancer cells regulate themselves.
"We know we need to eat healthfully, but in most cases we don't know the actual mechanistic reasons for why we need to do that," said co-lead author of the study Andrea Doseff, an associate professor at the university. "We see here that the beneficial effect on health is attributed to this dietary nutrient affecting many proteins. In its relationship with a set of specific proteins, apigenin re-establishes the normal profile in cancer cells. We think this can have great value clinically as a potential cancer-prevention strategy."
While more research is needed to directly connect drinking chamomile tea with some benefits, the next time you're tossing and turning, you may want to grab yourself a cup of 'mile and you might just be surprised by how much it enhances your slumber.
Soutter adds that you should avoid it if you've previously had a reaction to any camomile-based products, or if you are allergic to pollen. It also shouldn't be used as a substitute for proven medical treatments.
Disclaimer: Views expressed in this article are the author's own and MSN does not endorse them in any way. Neither can MSN independently verify any claims made in the article. You should consult your physician before starting any weight loss or health management programme to determine if it is right for your needs.