Famous lantern festivals to be a part of

Photos
2019-01-14
Lantern festivals are celebrated across different parts of the world to usher in prosperity, love or to pay tribute to the departed souls. Celebrations feature a dazzling display of lanterns, which are hung on streets and other places and also released in the sky. Here are some of the famous lantern festivals that one must witness. 
Hoi An Lantern Festival
When: Monthly, on the night of the full moon
Where: Hoi An, Vietnam
© John S Lander/LightRocket via Getty Images
As the full moon peaks, revellers release paper lanterns of various shapes, sizes and colours on Hoai River hoping for good health and peace. Monks hold ceremonies at the pagodas, where people can also cast their own lantern. 
Spring Lantern Festival
When: Feb. 19, 2019
Where: China and places with Chinese community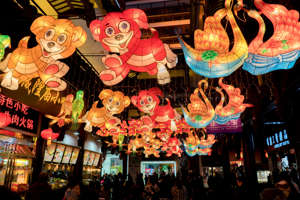 © Zhang Peng/LightRocket via Getty Images
Celebrated on the 15th day of the first lunar month, it marks the end of the Chinese New Year Spring Festival. Colorful lanterns of various shapes and sizes adorn houses and streets and are released in the sky. It is believed that lighting them will illuminate the future and bring prosperity to families. Folk dances are performed, and fireworks displays are set up in various public areas.
Pingxi Sky Lantern Festival
When: Feb. 19, 2019
Where: Pingxi, Taiwan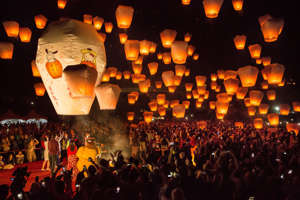 © Billy H.C. Kwok/Getty Images   
The world-renowned event takes place on last day of the Lunar New Year and has been celebrated for over 100 years. Streets are filled with lantern shops, where one can choose from vivid lanterns shaped conventionally or like animals and write down wishes with a Chinese calligraphy pen. They are then released into the sky with hopes that ancestors will answer the prayers.
Lantern Floating Hawaii
When: May 27, 2019
Where: Oahu, Hawaii, U.S.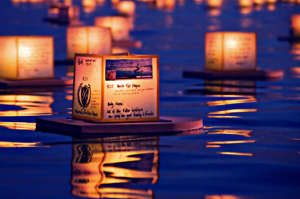 The festival is celebrated each year on Memorial Day to pay homage to those who lost their lives while serving the country. The sounding of the iconic Hawaiian shell trumpet marks the opening of the event followed by Japanese taiko, which involves chants, and floating lanterns onto the water. 
RiSE Lantern FestivaL
When: Oct. 4-5, 2019
Where: Las Vegas, Nevada, U.S.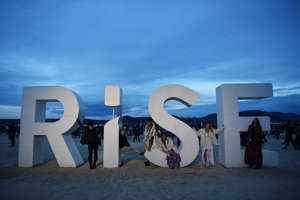 With a message of elevating hopes and igniting dreams, the festival witnesses the simultaneous release of thousands of biodegradable lanterns in the middle of the Mojave Desert outside of Las Vegas. The event made its debut in 2014 and also features live music, onstage performances and food and drink.
Yi Peng
When: Nov. 13, 2019
Where: Thailand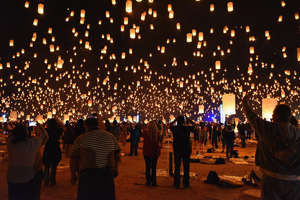 The highlight of the Yi Peng festival are the sky lanterns, known as khom loi in Thai, which are made of rice paper and stretched over a bamboo frame with a candle attached inside. People release the lanterns into the sky hoping for good luck and asking for forgiveness for past mistakes.
Loy Krathong
When: Nov. 13, 2019
Where: Thailand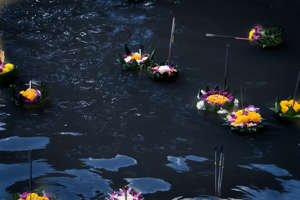 This year, the festival will be celebrated on the same day as Yi Peng. Held on a full moon day, the event sees people releasing lotus-shaped baskets made from banana leaves, containing sticks of incense or candles, on a water body. It is also a custom to include clippings of fingernails or locks of hair into the basket to signify letting go of the past.
Diwali
When: Oct. 27, 2019
Where: India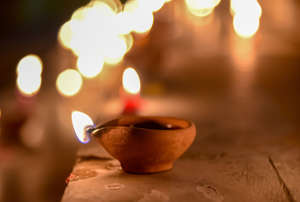 One of the most prominent Hindu festivals – signifying the triumph of good over evil – is celebrated by lighting earthen lamps, candles and fireworks. The exteriors of houses and buildings are also adorned with vivid "kandeels," lanterns made of coloured paper spread over a wooden frame.
Korean lantern festival lights up Seoul (Deutche Welle)