Plane talk: How to get business class tickets on the cheap

The Independent
2018-09-25
© Provided by The Independent Business class fares are, as you know, generally disproportionate to those in economy: in my experience a proper luxury service with lie-flat beds costs anywhere from three to 10 times the cost of the cheap seats.
But are there circumstances in which you can experience premium class travel for, say, double the economy fare?
That is the task that reader Tim Blazey set for me, asking: "What are the best value fares for experiencing business class seats in a wide-bodied plane on a European route? I know BA flies the Boeing 777 from London to Madrid, but are there any others that you recommend?"

Back in the 1990s it was easy to find long haul luxury on short haul routes. I was particularly fond of Aerolineas Argentinas, which flew Boeing 747s from Heathrow to Paris and Madrid en route to Buenos Aires; even in economy, the leather seats, extra legroom and inflight catering were a cut above the competition.

Gulf Air used to offer the same between Heathrow and Paris, while the now defunct Varig of Brazil flew from Heathrow to Copenhagen as an extension of its service from South America.
© Provided by Getty From Manchester, Singapore Airlines served Munich using long haul aircraft en route to Asia (an idea unsuccessfully pioneered by British Airways). But with so many budget airlines flying, long haul airlines operating short hops in Europe can no longer expect to pick up much extra revenue and prefer to fly straight through.
Today the big European network carriers such as British Airways, Air France and Lufthansa have a pretty strict demarcation between the planes they use. short haul routes are served by narrow-bodied Airbus A320s or Boeing 737s, while wide-bodied A330s, A350s, A380s, 777s and 747s are used for long haul services.
But in some circumstances it make sense to deploy long haul planes on short haul routes. Airlines like to call the practice "intelligent misuse" of assets.
For the British Airways 777, each afternoon going from Heathrow to Madrid and back fits in well between the aircraft's morning arrival from the US and evening departure to Asia. And it provides plenty of seats to connect the hubs of BA and its sister airline, Iberia.
Related: The Best Airlines for Long-Haul Flights (Provided by The Active Times)
The Club World fares are astonishing good; booking ahead for November, I have made a test booking and found plenty of seats at £325 return. With a time in the air of typically two hours, though, you won't get too long to enjoy the lie-flat beds.
On the four-hour trip to Moscow on BA's 777s, you have plenty more time to indulge – but at an absurdly high price, with £1,612 return quoted on my test booking.
British Airways deploys long haul aircraft on this short haul route because of the nature of the market, which includes plenty of high-spending business passengers.
From a commercial perspective, London-Moscow counts as a long haul route that just happens to be very short.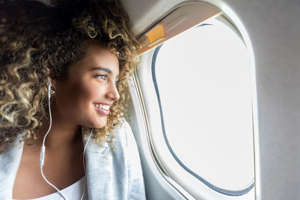 © Provided by Getty To stray from Tim Blazey's original brief, though, BA's Russian route provide an excellent example of paying a short haul economy fare but getting a long haul experience. There are plenty of cheap seats on offer between London and Moscow, and passengers enjoy more room as well as inflight entertainment – and a proper long haul meal with free drinks.
The top long-haul-comfort-on-short-haul flight, though, is probably on Finnair from Heathrow to Helsinki. One rotation each morning uses an Airbus A350, which I reckon is the best plane in the sky.
Sometimes, to mop up in the event of disruption or to cash in on exceptional demand (such as England's progress in the World Cup), airlines will replace a narrow-bodied Airbus with a 777 or 747. These events are unpredictable, of course.
But watch out for occasional flourish of absurdity, such as Air France deploying an Airbus A380 "SuperJumbo" between Heathrow and Paris as it did in 2010 – apparently to increase the opportunities for flight crew to boost take-offs and landings in order to keep their licences current.
Also Watch: 6 ways first class is still the best, even as business class gets better