Food museums around the world

Photos
2019/05/30
Museums have always been fascinating, but when the theme is your favorite food (like ice-cream, chocolates or noodles!), the fun factor is further increased. From a potato fries museum in Belgium to Nestlé's Alimentarium in Switzerland, take a look at this full menu of some interesting food museums around the world and whet your appetite!
World of Coca-Cola (Atlanta, Georgia, US)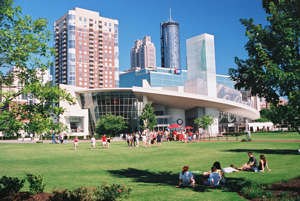 © World of Coca Cola Photos via Charlotte Observer/MCT via Getty Images The museum was first opened at Underground Atlanta on Aug. 3, 1990, and then moved to Pemberton Place on May 24, 2007. The secret formula of Coca-Cola – written on a piece of paper – is secured in a vault here. The museum building is marked by a glowing bottle and visitors can treat their taste buds with more than 100 international and domestic Coca-Cola beverages at the 'Taste It!' area. The museum is open daily, except for Thanksgiving Day, Christmas Day and special events, and entry is ticketed.

Alimentarium (Vevey, Switzerland)

© Guenter Fischer/Shutterstock This museum is housed in a historical building overlooking Lake Geneva. Built by Nestlé, one of the world's largest food and beverage companies, the museum was opened in 1985. Visitors can get guided tours of different sections based on their interest – from eating, cooking and digestion to the history of food production. The museum is open to public on all days of the week except Mondays and public holidays; entry is free of charge for children below five years.
Museum of Cocoa and Chocolate (Brussels, Belgium)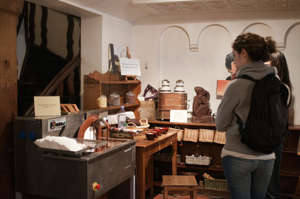 © Sergi Reboredo/DPA/PA Images The museum was created in 1998 by the Van Lierde - Draps and the Van Belle families, who were driven by their passion for chocolate and cocoa. Visitors here can see a demonstration by a chocolatier on how chocolate is made, and taste and sniff chocolate at different stages of production. The museum is a must-visit spot for chocolate aficionados also because it offers a detailed study of Belgian chocolates. The place is open on all days and entry for children below six years is free. 

Frietmuseum (Bruges, Belgium)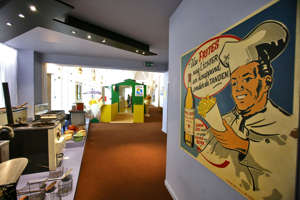 © Denis Closon/Shutterstock Dedicated to the production of Belgian potato fries, the museum is housed in the 14th-century Saaihalle building. It was created in 2008 by the families Cédric and Eddy Van Belle. Guests can discover the history of fries and potatoes, and the condiments with which they are served. It is open every day, except Dec. 25 and Jan. 1, and entry is charged.

Dutch Cheese Museum (Alkmaar, Netherlands)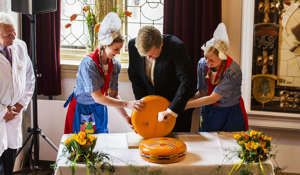 © Remko De Waal/EPA/Shutterstock Situated in the historic Waaggebouw building, overlooking the cheese market, the museum was established in 1983. Dutch cheese is famous all over the world and here visitors get to learn about its history, preparation and trade. The museum is open all through the week; entry is ticketed.
Museum Kimchikan (Seoul, South Korea)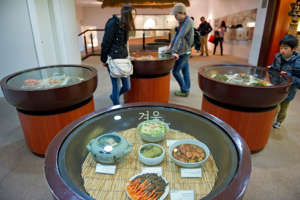 © Ann Hermes/The Christian Science Monitor via Getty Images The museum first opened in 1986 as Kimchi Museum in Pil-dong and was the only food museum in the country for a long time. The Kimchi Museum reopened as Museum Kimchikan in Insa-dong on April 21, 2015. The museum displays various aspects of Kimchi, a staple in Korean cuisine, and visitors can take part in immersive Kimchi-making programs. The museum is open from Tuesdays to Sundays; entry is ticketed.

Shin-Yokohama Ramen Museum (Yokohama, Japan)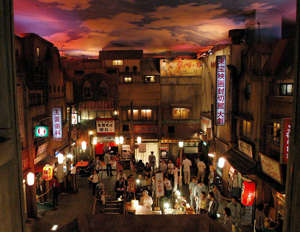 © Akio Suga/EPA/Shutterstock Founded on March 6, 1994, Shin-Yokohama Ramen Museum is considered one of the world's first food-themed amusement parks. The museum replicates the first few ramen shops in the country from 1958, which is the same year that instant ramen was invented. The history of the dish is explained in the gallery area and there is a museum shop where ramen from all over the country is available. The museum is closed only on holidays; entry is free for children aged below six.
Museum of Ice Cream (San Francisco, California, US)
© TNS/SIPA USA/PA Images Founded by Maryellis Bunn, the museum opened its doors to the public in 2017. Giant popsicles, cookie carousels, unicorns and rainbow sprinkles-filled pools keep visitors engaged here. The museum is open on all days except Tuesdays; children below the age of two can enter for free.

Cup Noodles Museum (Ikeda, Japan)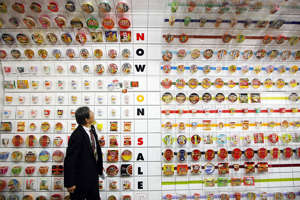 © Junko Kimura/Getty Images It's a shrine to the creator of instant noodles and chicken ramen - Momofuku Ando. The museum is dedicated to instant noodles, cup noodles, instant ramen and has packages from around the world. There is also a museum shop where cup noodles and gift sets can be purchased. The museum is closed only on Tuesdays and New Year holidays; entry is free, however certain facilities and attractions are charged.
The Butter Museum (Cork, Ireland)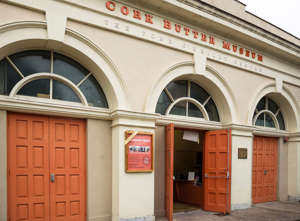 © Education Images/UIG via Getty Images The museum tells the story of one of Ireland's most important food exports – butter. It explains the internationally important Butter Exchange in the 19th-century Cork and displays a number of traditional butter-making equipment. An audio-visual presentation takes visitors through the development of the dairy industry. The museum can be visited any day from March to October; entry is charged.