Diseñador pide a los fans de Meghan no comprar su colección en eBay, ¿por?

Quién
9/21/2019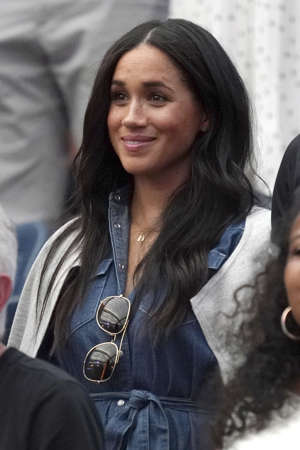 © AP Meghan, Duchess of Sussex, attends the women's finals of the U.S. Open tennis championships on Saturday, Sept. 7, 2019, in New York (Photo by Greg Allen/Invision/AP)

Una semana después del lanzamiento oficial de la colección cápsula de ropa formal en la que colaboró Meghan Markle , el diseñador John Lewis pidió a los seguidores de la duquesa que no compren las prendas en el sitio web de ventas de segunda mano eBay, ya que las ganancias no llegarán a la asociación benéfica 'Smart Works'.
"Para aquellos clientes que estén interesados en comprar una bolsa y, como consecuencia, donen otra a Smart Works, los instamos a que vayan a una de nuestras tiendas donde pueden comprar una bolsa Smart Set. Las ventas de la bolsa en cualquier otro lugar no conducen a una donación de caridad", dijo el diseñador.
La petición de Lewis surgió luego de que el bolso antes mencionado, cuyo valor de 109 libras, estuviera disponible en eBay por 295 libras un día después de la presentación . Al parecer, se trata de un fanático que quiere obtener ganancias de la acción benéfica, ya que tenía tres bolsos disponibles a la venta.
Entre los artículos disponibles en la colección están también un vestido Marks & Spencer de 19.50 libras esterlinas, disponible en negro y azul; una chaqueta de rompecabezas de 199; un pantalón de 120; y una camisa blanca de la diseñadora y amiga cercana de Meghan, Misha Nonoo, de 125.
"El vestido Smart Set está disponible en línea y en 170 tiendas M&S, por lo que alentamos a nuestros clientes a comprar el vestido y todas las demás piezas de la Colección Smart Set Capsule directamente con los socios minoristas, en lugar de hacerlo a través de terceros", añadió Lewis.
La intención es que por cada artículo comprado de la colección uno igual sea donado a la organización Smart Works , cuya labor es ofrecer ropa formal y prendas clásicas a mujeres de escasos recursos que buscan incorporarse al ámbito laboral.
Cómo era Meghan Markle antes de llegar al mundo de la realeza (Showbizz)